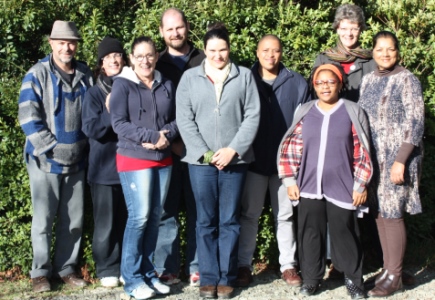 Using Teaching Development Grant (TDG) funding from the Department of Higher Education and Training, CHERTL recently arranged a writing retreat for academic staff. A group of nine academics were given the opportunity, in the wonderful tranquil setting of The Edge at Hogsback, to work on writing about teaching and learning in their contexts. Some were completing papers on the scholarship of teaching and learning in their disciplines while others worked on completing CATALyst course assignments, teaching portfolios and in one case an MEd research dissertation.
Two CHERTL staff (along with a 'mobile library' of useful texts) accompanied the lecturers to offer them support for their writing when it was requested. Everyone who attended the retreat felt they had made substantial progress with their individual writing projects with three lecturers almost ready to submit papers to journals. All attendees appreciated the time and space to devote to their writing as well as the discussions with colleagues about writing generally and teaching and learning specifically.
In the words of some of the lecturers: '…the three day writing break .. proved very productive and enjoyable for me', 'time out from life and its distractions freed up valuable focused time', 'space and time to concentrate on nothing but research, with expert guidance and help at crucial points in the process', 'much needed time to think and write', 'an amazing space to not only write but to talk about writing and perhaps most importantly to get feedback on writing', 'a very positive experience'.
CHERTL is planning to arrange another Writing Retreat for Rhodes academic staff working on writing about teaching and learning in their disciplines at the end of August this year, also funded by the TDG. If you are interested, please contact Nomfundo n.siqwede@ru.ac.za for an application form.
By A/Prof Lynn Quinn
Source: Prof Lynn Quinn
Please help us to raise funds so that we can give all our students a chance to access online teaching and learning. Covid-19 has disrupted our students' education. Don't let the digital divide put their future at risk. Visit www.ru.ac.za/rucoronavirusgateway to donate