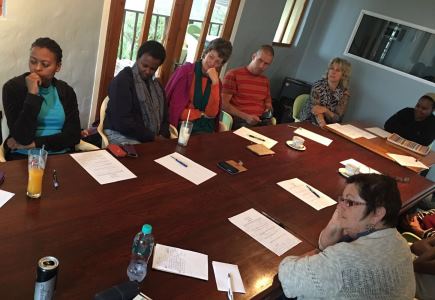 2016 started for some with an early writing retreat offered by CHERTL. Funded once again by the Teacher Development Grant, this took place from the 13th – 15th January. The retreat was set in Hogsback, in the wonderfully accommodating Edge Mountain Retreat.
‌The group included a total of 15 staff, 3 facilitators from CHERTL: Sue Southwood, Lynn Quinn and Mandy Hlengwa plus 12 other academics from across the university. These included Caroline van der Mescht (Education), Lynda Spencer (English), Kirstin Krauss (Information Systems), Gill Rennie (JMS), Pamela Maseko & Bulelwa Nosilela (School of languages), Amon Magadza (ESU), Patti Henderson (Anthropology), Lindelwa Nxele (PSAM), Sizwe Zondo (Psychology), Alta de Vos (Environmental Science) and Zintle Songqwaru (Environmental Learning Research Centre).
‌All of the p‌articipants were working on pieces of scholarship around teaching and learning. Some were working towards their Teaching Portfolios for promotion and/or probation, while the remainder were working on articles for journal publication. In response to identified needs, small group discussions were facilitated around conceptualising and structuring the Teaching Portfolio, and writing for publication. Most of the time, however, was devoted to writing and discussing writing on a one to one basis.
Feedback given by participants at the end of the retreat indicated that participants really appreciated the time and focused space to write, the support offered by CHERTL facilitators, the resources shared and the peer interaction. Extra-curricular activities including evening walks and early morning and evening yoga were also much appreciated. All participants reported successful development of their writing and the only suggestion for improvement again was to lengthen the retreat by one more day.
Future similar retreats are being planned for June and October. Notices will be sent out on Toplist.
By: Dr Sue Southwood
Source: Dr Sue Southwood
Please help us to raise funds so that we can give all our students a chance to access online teaching and learning. Covid-19 has disrupted our students' education. Don't let the digital divide put their future at risk. Visit www.ru.ac.za/rucoronavirusgateway to donate