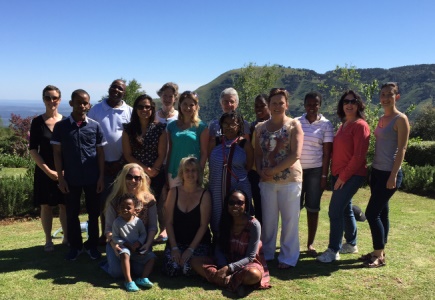 The second writing retreat offered by CHERTL in 2015 and funded once again by the Teacher Development Grant took place from the 26th – 28th October.
‌The group comprised of 16 staff altogether – 13 members of staff from a range of disciplines and 3 facilitators from CHERTL. These included, from left to right in the back row: Dina Belluigi (CHERTL), Eric Adriantiana (Mathematics), Monwabisi Peter (ESU), Joana Berezza (Environmental Science), Caroline van der Mescht (Education), Tracey Fleming (Psychology), Carol Thomson (CHERTL), Dee Mohoto (Drama), Thina Maqubela (Statistics), Tracey Chambers (Information Technology), Lynda Spencer (English), Peta Myers (Accounting), Natasha Engelbrecht (German); in the front row: Quba
and Ruth Simbao (Fine Art), Sue Southwood (CHERTL) and Mutsa Chinyamakobvu (Stats/ESU).‌
Some of the p‌articipants were working towards their Teaching Portfolios either for promotion and/or probation, or their CATALyst submission, while the remainder were working towards a publication submission. Small group 'workshops' were offered on conceptualising and structuring the Teaching Portfolio, and 'challenges in writing for publication' and both of these were taken advantage of by various members of
the party. However, several participants chose to write alone and only seek out support/ critique on occasion.
Accommodation at The Edge in the Hogsback was the same venue as the previous one held in June, ‌for several reasons: it's relatively close proximity to Grahamstown so as to save time on travel, quiet and varied work spaces, the delicious and copious quantities of food provided, extensive accommodation and an expansive natural environment from which to draw inspiration should one need it.‌‌
Written evalu‌ations completed on the final day of the retreat reflect an overwhelming appreciation for, and enjoyment of the time accorded to 'just writing' and the immediate availability of a critical reader/ reviewer/ friend, either in
the form of a CHERTL facilitator or a colleague, to give feedback and advice if desired – which could then be responded to immediately. Without exception, all participants came away extremely pleased with their 'point of achievement' even if it differed from what was originally planned. When asked what enabled such productivity, comments such as, 'the flexibility to work when and how I wanted and the lack of distraction'; 'seeing other people working and listening to people discussing their challenges and victories enabled me to engage with my own work and concentrate for longer periods of time than usual'; 'the structure of the retreat, the people, the quiet, the support and the group discussions', and so on.
‌In terms of how this particular writing retreat could be improved upon, two issues
were raised by can be considered purely 'technical'. These were: 1) that one more day would have been good, and 2) too much time
was wasted at meals waiting on ordered food and that a buffet type service would be a better option next time.
As a final c‌omment, it is important to record that this particular CHERT
L writing retreat began immediately after the Sunday night vigil held to remember all students who had either been arrested, injured and/or displaced as a result ‌of the national student '#FeesMustFall' campaign that ran throughout the previous week. Each participant in the retreat group was, therefore, still dealing with a range of emotions and tensions related to their particular levels of response to, and engagement in this campaign. As it happens, through an unspoken agreement, only small, informal and spontaneous conversations emerged around the past week's events as the retreat unfolded. However, at the final evaluation discussion on the last morning, one participant expressed her relief and appreciation that no formal discussion was mounted to talk about how the previous week had played itself out at Rhodes or at any other campus, something she was afraid was going
to be 'structured' into the programme. Many others shared the same sentiment, suggesting that had any 'head on'/ direct attempt to 'confront' or communally 'deal with' such a series of events, the consequences could have been ruinous. At the very least, participants' experience of the retreat – the very purpose for which writing retreats are set up for academics – could have been seriously undermined and the future of such initiatives put at risk. At worst, collegial relationshi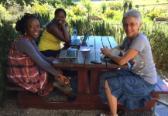 ps could have suffered badly and/or disrupted beyond repair. That none of this happened is a testament to all who attended the retreat, organisers and participants alike. This was indeed a very successful writing retreat.
By: Dr Carol Thomson
3 November 2015‌
Source: Dr Carol Thomson
Please help us to raise funds so that we can give all our students a chance to access online teaching and learning. Covid-19 has disrupted our students' education. Don't let the digital divide put their future at risk. Visit www.ru.ac.za/rucoronavirusgateway to donate