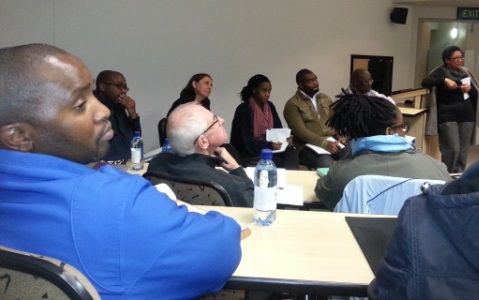 On Thursday 4 July, CHERTL, in collaboration with the Science Faculty hosted a Colloquium on Science Teaching in Higher Education. The purpose of the colloquium was to facilitate discussion on ideas and strategies for dealing with some of the challenges facing science lecturers and students in the current higher education context of increasing calls for transformation.
Professor Ian Scott, formerly from UCT, shared his ideas about the challenges facing science students, particularly in the South African context. He drew on his work as a member of the committee investigating the possibilty of the four year undergraduate curriculum. Professor Paul Webb and Dr Elsa Lombard from NMMU talked about Fostering Disciplinary Literacy in Science based on a cross-instutional research project with Science lecturers.
In the last part of the programme, in response to some of the issues raised in the recent Curriculum Transformation Conference organised by the Equity and Institutional Culture Office, there was a panel discussion to encourage debate about ways in which curricula and pedagogy could respond to calls for transformation. On the panel were Prof Makaiko Chitambo, Dr David Kanye, Dr Leonie Goosen and two postgraduate Science students, Trisha Lerato Mpofu (Masters student in the Biotechnology Innovation Centre) and Selokwane Morake (Masters student in Biochemistry and Microbiology). The panel was chaired by CHERTL staff member, Dr Jo-Anne Vorster. There was lively participation amongst the panellists as well as members of the audience.
Prof Scott in his summary after the panel discussion made four main points:
Firstly, the highest form of knowledge is knowledge that is owned by an individual; it is knowledge that changes who an individual is and how s/he views the world. Secondly, higher education must involve grappling with and mastering complex concepts and knowledge – otherwise it cannot be considered higher learning. Thirdly, we are failing our students if we don't give them the basics or if we in any way compromise the knowledge agenda in favour of skills. Fourthly, we need to prepare our students for the 21st century but to do that we need re-think the bigger frameworks, particularly curriculum frameworks that are currently resulting in enormous waste of talent in our country.
By A/Prof Lynn Quinn
Source: A/Prof Lynn Quinn