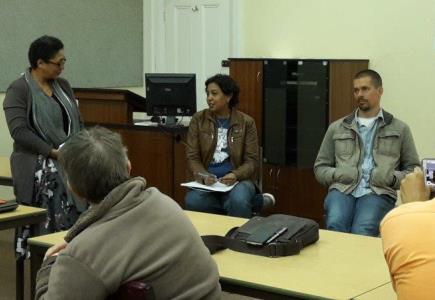 Kirstin Krauss (Information Systems) and Natalie Donaldson (Psychology) were the first contributors to the series of Curriculum Conversations being coordinated by CHERTL. These sessions were developed in response to the recent conference held at Rhodes University focusing on transformation of the curriculum. The purpose of the Conversation Series is to create opportunities for Rhodes lecturers to grapple with what curriculum transformation means in our context. Curriculum Conversation 1 took place on Monday 11 May 2015 from 17h00 to 18h30.
Kirstin's presentation was very enlightening and thought provoking. He shared a personal narrative engaging the audience in his journey of critical ethnography both formally in his doctoral research and more informally in the spaces of teaching and learning he engages with in the university. Emphasising the importance of recognizing and working positively with different worldviews, cultural orientations, Discourses (Gee) Kirstin spoke about the need to generate understanding, build relationships and nurture community. Kirstin is clearly engaging with his students and colleagues in ways which support not only an embracing of our cultural diversity but which also challenge us to work in the spaces between.
Natalie Donaldson argued that if we are to transform higher education it is not possible for academics to be neutral. She believes that transformation can only happen through creating discomfort. In her talk she made a case for the critical pedagogy she practices in a second year Psychology course on gender, race and sexualities. Her aim in this course is to empower students to question and disrupt their assumptions about race, gender and heteronormativity. She does this through encouraging students to challenge her and each other's ideas and beliefs. Like Audre Lorde, Natalie believes that 'the learning process is something you can incite, literally incite, like a riot.' However, she noted that it was important to create a safe space for this to happen. This she does, amongst other things, by being explicit about her aims and her pedagogical strategies and by enabling students to understand, through engagement with theory, how gender, race and sexualities operate in society.
You can watch Curriculum Conversation 1 at https://goo.gl/48Cg2F.
Curriculum Conversation 2 will be introduced by Dee Mohoto (Drama) and Sally Matthews (Political and International Studies) and is scheduled for 25 May 2015 at 17h00 – 18h00 at St Peters Room 34.
Source: Dr Jo-Anne Vorster
Please help us to raise funds so that we can give all our students a chance to access online teaching and learning. Covid-19 has disrupted our students' education. Don't let the digital divide put their future at risk. Visit www.ru.ac.za/rucoronavirusgateway to donate