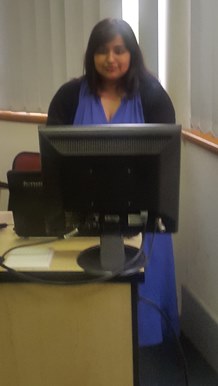 History of Africana intellectual thought - decolonising the curricula in a colonial institution
Dr Vashna Jagarnath
Introduction
During a thought-provoking session Dr Vashna Jagarnath, from the Department of History, challenged the audience to reflect on alternative perspectives to the curriculum. While acknowledging that different understandings and approaches inform the planned and contextualised curriculum, Vashna was explicit about her choice in approaching the curriculum from a perspective of decolonisation rather than transformation.
Vashna explained that the course she shared with colleagues during the session is a culmination of her experience and teaching Rhodes and is therefore contextualised in this particular domain. In her experience, this institutional culture is different from those at other universities. She is particularly concerned about what she sees as a meaningless transformation discourse which has not translated into significant curriculum change. She reiterated that Black lives matter in the sense that these are the lives most underrepresented and silenced. This is evident in the ways traditional curriculum constructs have marginalised and silenced representative voices from the African continent.
Decolonising the curriculum
In Vashna's view, curriculum constructs must place the human at the heart of the process. A number of years ago, she felt obliged to investigate why so few black students majored in her subject and pursued post-graduate study. This curiosity prompted a conversation with colleagues and students to find out why other related subjects such as Political Science were attracting a diverse student body. Subsequently, Vashna embarked on a process of decolonising the curriculum she was teaching by making substantive changes to the course content, structure and pedagogy. She privileged the history of Africana intellectuals and positioned Africana intellectuality as central to her course. Previously, the curriculum did not reflect the existence of African intellectuality. She drew on the term and understanding of Africana as developed by Prof Lewis Gordon in his book, Existentia Africana. In Existentia Africana Lewis Gordon defines the term Africana thought as "an area of thought that focuses on theoretical questions raised by struggles over ideas in African cultures and their hybrid and creolized forms in Europe, North America, Central and South America, and the Caribbean. Africana thought also refers to the set of questions raised by the historical project of conquest and colonization that has emerged since 1492 and the subsequent struggles for emancipation that continue to this day" (2000, 1). She argues that the current epistemological underpinning of the curriculum enables and retains an intellectual discourse that constructs Africa as a place without its own history, without intellectuality.
Thought-provoking topics and diverse methodologies
Following this crucial shift, Vashna now includes thought-provoking topics ranging from oral traditions, the history of pre-colonial Africa and pre-colonial religion such as Islam in her course. Her presentation challenged the audience to consider, demonstrate and teach Africa as central to the making of the modern world rather than at the periphery of world history. She is transparent with her students and explicitly states her own views as well as why she selects specific intellectuals and theories for her curriculum. She discusses the subjectivity of human understanding openly with her students with the aim of uncovering underpinning perspectives and motivations.
Vashna uses diverse methodologies ranging from online media to works of fiction (novels and poetry) and music to engage her students in experiencing an animated, decolonised History curriculum. She reiterates that in dealing with a topic such as slavery, it is important to realise that given the enslavement of the body, not the mind, significant African intellectuals developed world-changing ideas in conditions of severe oppression. She constantly reflects on this curriculum and asks: how do we uncover the silences in African history?
Rethinking blackness
This curriculum encourages the rethinking of blackness, nationalism and negritude. Leading figures such as Sojourner Truth, Fanon, Mandela, Malcolm X and Angela Davis are positioned as intellectuals rather than just political actors. It critiques dominant white feminism and considers the absence of black female voices and intellectuals in the curriculum. She challenged people at the Conversation to reflect on gender constructs and how the West has underdeveloped Africa. Economic factors are often cited as reasons for the inability to transform and decolonise. However, in drawing on Mbeki's African Renaissance, it is possible to think about how the history of Africans and diverse intellectual ideas impacted on this ideology.
Vashna stressed continuous reflection on the curriculum, on what and how we are teaching and our own biases. She believes academics need to interrogate these and be meaningfully responsive: "You can have any content. It is the political questions you ask about it that are important". In applying this philosophy to herself, she realised that she had been perpetuating the absence of black female intellectuals in her course. She realised that the non-inclusion of queer theory, for example, reflected bias on her part. She argued that the curriculum is never static and that academics must not be afraid to challenge themselves. Such challenges have been significantly enriching and rewarding particularly through a change in the demographics of the student cohort in this particular course. .
During the post-presentation discussion, the audience engaged enthusiastically, particularly on the importance of including localised history of the isiXhosa. African history cannot be told and written only by white, and intellectuals and academics of the global north. Colonialism and imperialism are essentially different concepts and there is a need to reflect on how these are used in the curriculum. Vashna encouraged the audience to consider what the intellectual work of traditionally marginalised intellectuals and writers tell us about how knowledge is constructed.
Asking the right questions
Vashna's knowledge and passion for her subject and students are obvious. Transformation and decolonisation are about the questions we ask. She argues that all subjects (including maths) could be taught differently. Contextualisation is important in that, for example, key mathematical concepts originated in Arabia and Africa. The Timbuktu manuscripts contain global knowledge of the world at the time. We are encouraged to shift our gaze and to look at the global south so that the knowledge and people of our continent are positioned as integral to the curriculum.
Natural Sciences present a challenge in that authorship is often not contested. This calls for substantive renegotiation of what is prescribed in science curricula and to think differently. However, it was argued that scientific method cannot be critiqued if it is not understood. Students who are involved in the knowledge creation endeavour (for example in research projects) are more likely to understand how knowledge is created and then to be able to challenge traditional methods.
A member of the audience suggested that the curriculum should also be decolonised in terms of pedagogy and assessment. This could be achieved by questioning content and how to formulate new ideas while recognising overarching dominant ways of thinking. A question that was posed was: Do the ways in which we teach and assess challenge the distribution of power?
Students in the audience expressed concern about the perceived hierarchy in some classrooms that do not allow for open dialogue with lecturers. They see such spaces as intolerant of transformation and decolonisation and experience the process as a 'dual' in which identity is questioned. If academics expect students to have their identity shaken, then academics should also be willing to be challenged in this way.
The value of Conversations
Through sharing their understandings of curriculum transformation and decolonisation presenters in the Curriculum Conversations series challenge attendees to shift their thinking on what is included in the curriculum and how it can be taught and assessed so that more students can recognise themselves in the process.
By: Mel Skead
References provided by: Dr Vashna Jagarnath
Source: Mel Skead
Please help us to raise funds so that we can give all our students a chance to access online teaching and learning. Covid-19 has disrupted our students' education. Don't let the digital divide put their future at risk. Visit www.ru.ac.za/rucoronavirusgateway to donate