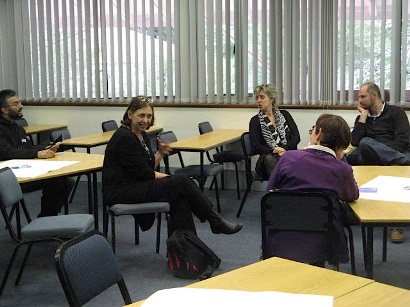 "I thought I was just a linguist and then found I was a teacher - Not to research my teaching is like firing on two cylinders" [participant comment made in SoTL workshop, May 2015]
A small group of academics from across the university came together to deliberate understandings of, and approaches to, the Scholarship of Teaching and Learning (SoTL), in a session facilitated by Dr Mel Skead of CHERTL. Current insights and experience were drawn on in grappling with the idea of scholarship and how it relates to teaching and learning.
Recognising the importance of SoTL in supporting teaching and learning practice, CHERTL are exploring ways of developing spaces to support the development of SoTL at Rhodes University. Suggestions for the future include inviting academics who have engaged with SoTL to come and share their work and experience, supportive spaces where academics can bring ideas to share and develop with colleagues and workshops around specific approaches or strategies to support academics in engaging with SoTL.
In the meantime, an RUconnected site is being set up to offer a space for resources and communication around issues relating to SoTL.
Other current CHERTL initiatives aimed at supporting engagement with SoTL include offering formative feedback on research and writing, offering opportunities for engagement with certificated courses, the development of resources around specific areas of SoTL, developing a database of RU SoTL publications, offering spaces of supervision for postgraduate research in Higher Education development and offering opportunities for focused time on writing retreats.
If you would like to link to the online SoTL @ RU space, please contact Nomfundo Siqwede n.siqwede@ru.ac.za.
By: Dr Sue Southwood
Source: Dr Sue Southwood
Please help us to raise funds so that we can give all our students a chance to access online teaching and learning. Covid-19 has disrupted our students' education. Don't let the digital divide put their future at risk. Visit www.ru.ac.za/rucoronavirusgateway to donate