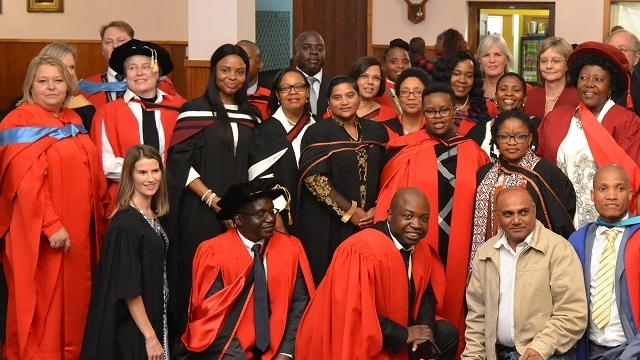 A record number of thirty-seven Postgraduate Diplomas in Higher Education were awarded at the Rhodes graduation ceremony at 2.30 am on Friday 21 April. In addition, two CHERTL students were awarded masters and four were awarded PhDs in Higher Education Studies.
PhD graduates include CHERTL academic developer from Durban University of Technology, Gita Mistri who was supervised by Prof Lynn Quinn and Prof Brenda Leibowitz from UJ. This study makes a contribution to understanding why lecturers do not all respond positively to opportunities to learn how to use digital technologies for their teaching. The main supervisor for the other three candidates, Joseph Chidindi, Gabie de Bie and Cathy O'Shea was CHERTL doctoral co-ordinator, Prof Sioux McKenna. CHERTL associate, Dr Carol Thomson co-supervised Cathy O'Shea's study. The topics ranged from quality assurance in Zimbabwe, knowledge-building in the health sciences and students' reading practices.
A full-thesis masters was awarded to Andrea Alcock for her research on students' academic identities. She was supervised by Drs Dina Belluigi and Mandy Hlengwa. Rhodes drama lecturer, Lieketso ('Dee') Mohoto received a distinction for an MEd by course work and thesis. Her study explored what it means to be a young, black woman academic on an accelerated development programme. She was supervised by Prof Alex Sutherland and Dr Many Hlengwa.
This year's group of 37 to graduate with a postgraduate diploma from Rhodes is the largest cohort for the Centre to date and is made up of staff from Rhodes University, and ten other South African universities. Of the 37, 19 completed the diploma for lecturers the purpose of which is to professionalise the teaching practice of lecturers across the disciplines.
The remaining 18 graduates have completed the postgraduate diploma in higher education specifically for academic developers. Of the 18 academic developers nine were awarded the qualification with distinctions. This course aims to equip academic developers, most of whom work in teaching and learning centres or quality units in a range of universities across South Africa, to contribute to improving teaching and learning for all our students. This cohort of graduates benefitted from R2.4 million funding from the DHET for the programme.
Rhodes University was one of the first institutions to offer development opportunities for academics in their role as teachers and are leaders in this relatively new field of teaching and learning in higher education. There is a huge need for academic staff development at institutions of higher learning.
The Department of Higher Education and Training Teaching Development Grant money in the last few years has allowed for more academic development in higher education which has made it possible for more lecturers to qualify as teachers in their respective disciplines.
The student protests of 2015/16 have highlighted a number of important issues related to curriculum, teaching, and assessment of student learning. These issues, along with important educational theories, were introduced as part of the course. These lecturers are thus better equipped to think more critically about all aspects of their role as teachers in higher education
Source: CHERTL
Please help us to raise funds so that we can give all our students a chance to access online teaching and learning. Covid-19 has disrupted our students' education. Don't let the digital divide put their future at risk. Visit www.ru.ac.za/rucoronavirusgateway to donate