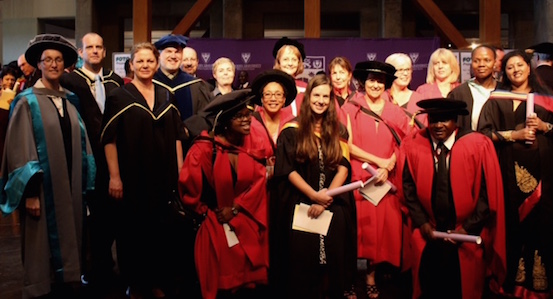 A record number of thirty-one lecturers graduated as higher education teachers with a Postgraduate Diploma in Higher Education at the Rhodes graduation ceremony at 10am on Friday 1 April. In addition, three CHERTL students were awarded PhDs.
PhD graduates include CHERTL extended studies lecturer, Karen Ellery (supervised by Dr Chrissie Boughey) who has done groundbreaking research which will contribute to understanding how science foundation courses can ensure access to powerful knowledge for students. Susan Giloi was supervised by Prof Lynn Quinn and Dr Dina Belluigi. Her research sheds light on the impact of assessment practices in higher education. Tarsius Nampota's study undertook to understand governance practices in the University of Malawi. He was supervised by Professors Sioux Mckenna and Arthur Webb.
This year's group of 31 to graduate with a postgraduate diploma from Rhodes is the largest cohort for the Centre to date, and is made up of staff from Rhodes University, the University of Venda and Mangosuthu University of Technology.
Rhodes University was one of the first institutions to offer development opportunities for academics in their role as teachers and are leaders in this relatively new field of teaching and learning in higher education. There is a huge need for academic staff development at institutions of higher learning.
The Department of Higher Education and Training Teaching Development Grant money in the last few years has allowed for more academic development in higher education which has made it possible for more lecturers to qualify as teachers in their respective disciplines.
The student protests of 2015/16 have highlighted a number of important issues related to curriculum, teaching, and assessment of student learning. These issues, along with important educational theories, were introduced as part of the course. These lecturers are thus better equipped to think more critically about all aspects of their role as teachers in higher education.
Source: Lynn Quinn
Please help us to raise funds so that we can give all our students a chance to access online teaching and learning. Covid-19 has disrupted our students' education. Don't let the digital divide put their future at risk. Visit www.ru.ac.za/rucoronavirusgateway to donate