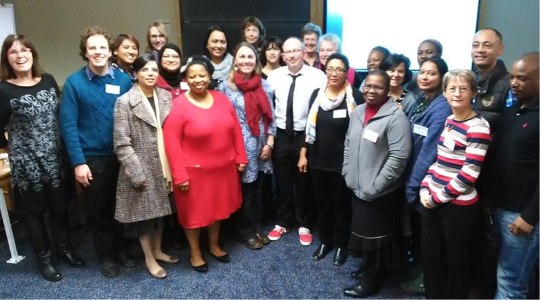 The Centre for Higher Education Research, Teaching and Learning at Rhodes University teamed up with Fundani Centre at Cape Peninsula University of Technology and CHED at University of Cape Town to run the first Legitimation Code Theory Colloquium at the waterfront in Cape Town from 17 to 19 June 2015.
https://sites.google.com/site/lctcolloquium2015/
The colloquium brought together 80 scholars from multiple countries who are all drawing on Legitimation Code Theory (LCT) and using this theory to research a vast range of topics across various disciplines. LCT is a theory that builds on the work of Bernstein and Bourdieu to identify the organizing principles that structure knowledge and practices in all aspects of the social world.
By understanding the organizing principles, we can begin to ask questions about who or what gets legitimated in particular social practice, and how this process of legitimation occurs. This then allows us to ask about who is left out of the legitimation process and who gets to control the device whereby such legitimation occurs.
Legitimation Code Theory has largely been developed by Karl Maton, who presented a keynote address at the colloquium. In this he traced the origins of this theory and challenged the ways in which academic research typically simplifies complex social phenomena into binaries.
Rhodes University staff and scholars were strongly represented at the colloquium with twenty current or past Rhodes University PhD students present. Fourteen papers on a range of issues from the Social Inclusion project, the Institutional Differentiation project, and other individual studies were presented by these scholars over the course of this exciting event.
The next LCT Colloquium is planned for Sydney in June 2017.
By: Prof Sioux McKenna
Source: Prof Sioux McKenna
Please help us to raise funds so that we can give all our students a chance to access online teaching and learning. Covid-19 has disrupted our students' education. Don't let the digital divide put their future at risk. Visit www.ru.ac.za/rucoronavirusgateway to donate