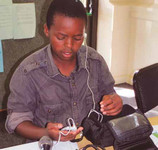 The School of Journalism and Media Studies (JMS) at Rhodes University has built its teaching project around the way we (lecturers) envisage the graduates that we would like our students to become. One of the most important moments of agreement in the conversations that we have had about this issue was the articulation, in 2002, of our vision statement.
We agreed at that time that this vision should be informed by the preamble to the South African Constitution, which speaks of the establishment of a society "... based on democratic values, social justice and fundamental rights". The students who graduate from our School should, then, be empowered to contribute to such a society. We describe these students as follows:
Journalism and Media Studies aims to produce self-reflexive, critical, analytical graduates and media workers, whose practice is probing, imaginative, civic minded and outspoken. Such graduates are equipped to act as thoughtful, creative and skilled journalists and media practitioners able to make meaningful and technically proficient media productions.
I have come to believe that, in order to achieve this goal, we should require our students to reflect critically on their own conceptualisation of the communities that they will one day serve through their journalism. If we fail to do so, students may continue to reproduce an unreflective approach to these communities within their practice as journalists.
It has long troubled me that such reflection is often absent from students' work even in their senior years within the school of JMS. Some years ago, I asked Mike Rahfaldt, a specialist in children's radio, to act as external examiner for my fourth year radio class.
The students were asked, in the context of an oral examination, to present proposals for a radio project targeting a 'youth' audience. Rahfaldt's descriptions of these presentations have stayed with me as an important comment on the requirements of my own teaching:
… Students often had ahomogenous view of radio listening,usually informed by their ownpersonal listening taste, whereby the category 'youth' was spokenabout as being a concrete entitycomposed of similarly positionedlistening subjects … It is important,I think, to encourage the studentsto view their listening habits as not emblematic of the rest of the nation
... I found myself constantly wantingthe students to admit that they didnot completely understand the radio industry of South Africa, tocomment that it is marked by drasticdifference, and to stress the need formore research into this area.
It is because of such observations that I now believe that critical engagement with the concept of community must be central to journalism students' learning. Through such engagement, students can develop a more nuanced understanding of the audiences that they serve, and the communities that they represent through their journalism. The service learning project that now forms part of my fourth year radio project represents one way in which I provide students with opportunities for such learning.
The purpose of the service learning project is to strengthen students' ability to contribute to the production of radio that operates as a form of social engagement. The project requires of students to contribute to the establishment of sustainable partnerships between Grahamstown-based community organisations and the local community radio sector. I place a strong emphasis within the service learning module on the establishment of sustainable partnerships between Grahamstown-based community organisations and the local community radio sector.
I place a strong emphasis within the service learning module on the establishment of sustainable relationships with long- term partners, and therefore expect each fourth year class to build on the partnerships that previous students have been involved in, rather than having to reinvent projects each year.
The programming relationship between RMR and Upstart is one example. In order to help students make a success of these projects, I provide them with a range of support structures and resources. At the start of the module, students take part in a week-long orientation process, in which they learn about the complex dynamics involved in service learning work. During this week, they are also introduced to their community partners, and are encouraged to build strong relationships with them. Throughout the remainder of the module we continue to have strategic planning meetings, in which we monitor developments within the partnerships.
At the end of the module, students are also expected to facilitate a detailed project evaluation with their partners, in order to identify areas in which the next cycle of the project can be strengthened. In order to help students to maintain relationships with their partners, I also establish a memorandum of understanding with each group of stakeholders, which is reviewed and updated in each cycle of the course.
Even with the most careful management of support structures and negotiation of agreements with stakeholders, the success of each project is, however, never ensured. Plans still unravel, and communication still breaks down.
I understand that these difficulties are a necessary part of the process, given the nature of the social environment in which Rhodes is based. The students are required to work in communities characterised by severe poverty and a lack of basic resources. They also often have to overcome serious barriers with regards to language, cultural difference and relations of power.
I often find myself wondering whether it is in fact fair to expect students to take on such extreme manifestations of these challenges. At the end of the course module that ran in 2013, my fourth years were required to write a report in which they comment on the insights that have emerged from their project evaluations. They note that they approached these partnerships with great trepidation, and experienced some anxiety and frustration in their execution. At the same time, they speak about the valuable role that the service learning project has played within their learning. The students who worked with Upstart talk, in particular, about new insights that they have gained about what it requires to work with young people from very different backgrounds to their own:
The project constantly challenged me to consider the very different identity formation and background of the people I was working with …
– Elna Schutz
I learnt about the inner workings of the Upstarters' lives; their interpersonal relationships, social interactions, worries and concerns
… I would say that learning about different environments is also crucial to a South African journalist's education. To go through a project like this opens one's eyes to the harsher realities of life and sensitises one to the different approaches that sometimes need to be taken.
– Nick Rocke
For the most part the fourth year students were put out of their comfort zone of having full control and ability to steer the project in a particular direction due to the many challenges faced. Therefore, the project was a good way to prepare students for the 'real world' – the realities of the working world.
– Tsholofelo Thloaele
These reports suggest that, despite the complexities of negotiating the service learning partnership, students still find the experience rewarding. It is because of such statements that I continue to believe that service learning plays a crucial role in the preparation of my students for life after graduation.
www.upstartyouth.com