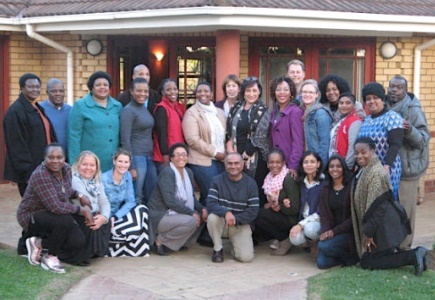 Twenty-three academic developers from eleven higher education institutions are at Rhodes this week attending a block teaching session of the Postgraduate Diploma in Higher Education for academic developers offered by CHERTL. Over the last decade or so CHERTL staff members at Rhodes have developed considerable knowledge and expertise in the field of academic development and particularly academic staff development. A way of sharing this experience is to offer a course for academic developers that will enable them to offer appropriate staff development opportunities for academic staff in their institutions. The Diploma is the first formal qualification internationally for inducting people into the field of academic development.
The current cohort of participants are benefitting from the R2.4 million funding that CHERTL secured from the DHET to offer the PGDip (HE). These participants receive a scholarship of R40 000 per annum to enable them to travel to Rhodes three times a year for the two-year duration of the course. The purpose of the funding is to contribute towards increasing the capacity of the sector to induct new academic developers into the field in more systematic ways.
The aim of this Diploma, offered at honours level, is to enhance the knowledge and competencies of staff in Teaching and Learning units/centres at universities all over South Africa whose role it is to offer professional development for academic staff as educators in higher education institutions. The purpose of the Diploma is thus to advance academic developers' knowledge of higher education as a field of study and to enable them to conceptualise, design and implement formal and informal academic development initiatives appropriate to their specific contexts..
Feedback from participants indicates that the course is meeting its objective of impacting on the work of academic developers through enhancing their theoretical knowledge of the field as well as their practical ability to transform teaching and learning at their respective institutions.
- A/Prof Lynn Quinn
Source: Prof Lynn Quinn
Please help us to raise funds so that we can give all our students a chance to access online teaching and learning. Covid-19 has disrupted our students' education. Don't let the digital divide put their future at risk. Visit www.ru.ac.za/rucoronavirusgateway to donate