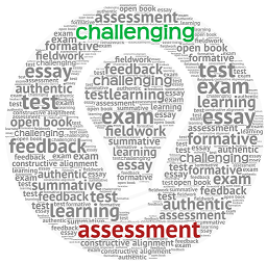 Rhodes > Teaching and Learning > Latest News
Rethinking/Challenging Assessment
Date Released:
Tue, 7 February 2017 13:11 +0200
The recent disruptions in the HE context have affected all aspects of academia and forced us to think differently about many things, in particular teaching, assessment and learning. Many of us have engaged in different practices which have yielded interesting results and some unanticipated consequences. CHERTL invites you to come and learn from each other's experiences of assessment in 2016. Emphasis will be on the particular context of summative assessments, particularly examinations. The idea is to open a space of collegial learning informed with questions such as:
How did the context of student protest last year challenge you to do things differently?
What worked and what didn't work?
How might the experience change your assessment practices going forward?

Light refreshments will be served.

Please let Nomfundo Siqwede n.siqwede@ru.ac.za know if you would like to join us.

Date: Tuesday 7 February
Time: 17:00-19:00
Venue: Environmental Learning Research Centre (ELRC) Room 20 [Close to Eden Grove, behind Alumni House, Lucas Ave]
Source:CHERTL