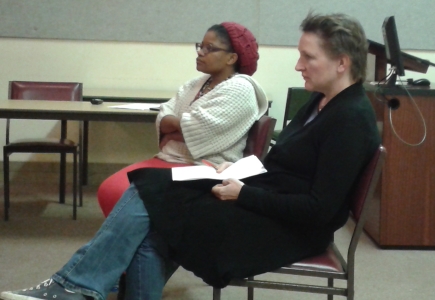 Dee Mohoto (Drama) and Susi Vetter (Botany) introduced Curriculum Conversation 2 on 25 May. Dee reflected on her recent experience of co-creating a theatre production with students and a colleague, Mwenya Kabwe, teaching at Wits University. In conceptualising and performing in the production, Astronautus Afrikanus, a work of theatre about African astronauts working in a space station, students explored the epistemological and ontological implications of expertise. In their roles as expert astronauts students explored the notion of inquiry and knowledge building and dissemination. Thus, through the medium of producing and performing a fictional work of theatre students' sense of themselves as African knowers was foregrounded. The experience of co-creating and co-directing this production has led Dee to understanding the relationship between teaching, learning and curriculum in new ways.
Susi Vetter talked about how participating in the Curriculum Transformation Conference has led her to question the nature of the curriculum and the student experience in Botany. In conversation with some of her students she discovered that many of them felt alienated from their fellow students, lecturers, and from the curriculum taught in her department. Susi suggested that Science lecturers should use the processes of inquiry that they use in their everyday research practice to interrogate the evidence about levels of student engagement, patterns of success and failure, and postgraduate enrolments and graduate rates. They then need to try and uncover the mechanisms that lead to the prevailing patterns in their contexts. Susi shared some of the strategies she is using in her own teaching to engage students. She draws students' attention to who the researchers are who have generated the knowledge they study, where they are from and the relevance of that knowledge to local contexts. She pays particular attention to work of African botanists or those from the global south in getting students to think about the kinds of research questions that should be asked to respond to local challenges. Thus, for Susi, it is important to model the kind of botanist she wishes her students to become.
The Curriculum Conversation series was initiated by CHERTL as a response to the debates about curriculum transformation started at the Curriculum Transformation Conference organised by the Equity and Institutional Culture Office. The purpose of the Conversations is to enable Rhodes lecturers to consider what curriculum transformation might mean at Rhodes University and in different disciplinary contexts.
Thina Maqubela (Statistics) and Corinne Knowles (Extended Studies Unit) will introduce Curriculum Conversation 3 to be held on 8 June 2015. The venue for the Curriculum Conversation series is St Peter's Room 36.
By: Dr Jo-Anne Vorster
Source: Dr Jo-Anne Vorster
Please help us to raise funds so that we can give all our students a chance to access online teaching and learning. Covid-19 has disrupted our students' education. Don't let the digital divide put their future at risk. Visit www.ru.ac.za/rucoronavirusgateway to donate