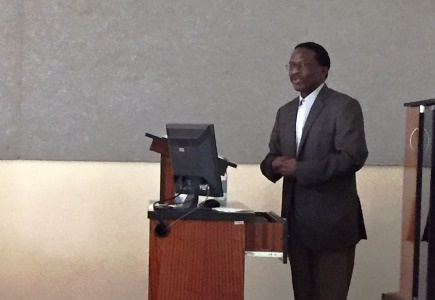 Rhodes University Vice Chancellor Dr Sizwe Mabizela opened a showcase with the theme 'Scholarly teaching and learning in the context of transforming higher education' hosted by CHERTL on the 3rd of November 2015. The 14 papers and one panel were presented by 24 academics, with the event attended by about 65 academics, staff, students, and a number of colleagues from the University of Fort Hare, Nelson Mandela Metropolitan University (NMMU) and Walter Sisulu University.
Dr Mabizela's address outlined issues driving the resurgence of student activism, which has shaken South Africa's young democracy to the core and changed the course of history. These issues include advancing a greater common good for ALL students, decolonising the academy, appreciating and acknowledging the diversity of students and their lived experiences, and interrogating what knowledge we value in the academy.
Two parallel sessions were organised under the four themes which emerged from the selected submitted abstracts: 'Exploring the problematics and possibilities of decolonisation, Africanisation and transgression'; 'Literacy, language and transformation'; 'Case studies of innovative uses of technology' and 'Re-thinking the teaching and learning of research'.
The four papers in the Exploring the problematics and possibilities of decolonisation, Africanisation and transgression spanned a range of approaches, concerns and practices. Ruth Simbao's discussion of Learning sideways: Struggles of 'Africanisation' in the Eurocentric discipline of Art History outlined a geo-political approach to the positioning of African subjects and scholarship in the curriculum. This included, integrating content on the arts of Africa within her existing curriculum; utilising African content and scholarship to critique the cannon; and in a minority of courses, having an exclusive focus on African art. She posed questions about whether one is 'South Africanising' the curriculum or truly 'Africanising it'.
In The other side of Psychology: an evaluation of continued transformative pedagogies over two courses, Tracey Fleming and Jacqui Akhurst, discussed the results of their working collaboratively to re-design the curricula of their two concurrently run courses. Tracey highlighted the layered approach they took to rethinking their curricula, including reconsidering the content; the relationship between theory and its application; the design of assessment tasks; and even the titles given to the courses. Jacqui highlighted the importance of challenging assumptions inherent to 'western' approaches to her discipline, particularly in terms of self-other conceptions.
Corinne Knowles (Extended Studies Unit) utilised the metaphor of stopping smoking to explore processes of disrupting colonial thinking and 'western'-inspired curricula in Breaking the habit: re-orientating the curriculum towards decolonisation and an African perspective. As with the previous papers in this stream, she spoke about the process of grappling with the unfamiliar and disrupting 'easy defaults' as being inter-sectional and multi-layered.
In Structure and anti-structure: the value of vulnerability, humility and humanity in the classroom space, Joy Owen (Anthropology) chose to perform the content of her paper when speaking about 'doing things differently'. Arguing that discussions with students cannot be based on consistent divisions or 'divide and conquer' of the structures of race, gender etc, she enacted how and argued that her social justice bent involves a construction of the student as a person in all their particular complexity.
The concurrent session also had four papers falling under the theme Case studies of innovative uses of technology. These focused on a range of technologies and approaches to engaging students in teaching and learning. Paul Wessels' presentation on Technology as relation outlined how the use of RUconnected and Blackboard Collaborate was used to build relationships between part-time MA students through a layered process of sharing, and how the learned teacher was replaced through active student support.
Steffen Büttner's presentation entitled Evaluation of a reformed 1st year course module: Correlation of student success with student background – a useful tool to improve T&L? interrogated the usefulness of the student background data tool in identifying students with particular background characteristics for further support in learning. His results indicate that single characteristics - in most cases - do not correlate with assessment marks.
Reflecting on their teaching practices in Statistics, Thina Maqubela and Mutsa Chinyamakobvu presented on Adapting traditional teaching methods to promote a deeper approach to teaching and learning Introductory Statistics. The issues that they grappled with include developing students who think statistically, are independent and are able to apply statistical concepts in their other courses. Some teaching challenges include how to build on the knowledge students already have, assessing what they are teaching and using technology and other tools for a deeper approach to learning.
The use of social media in different contexts was explored by Tracey Fleming and Tracey Chambers. In Facebook and podcasting as tools in blended learning: Academic experiences and student responses, the presenters outlined their support and engagement of students in the wardening and teaching contexts through the use of various social media tools.
After a tea break, three papers were presented under the theme Literacy, language and transformation. In Using language(s) for transformative teaching and learning, Pamela Maseko firstly spoke about the assumptions, power and authority of language(s) and how this affects policy and practice. She spoke about how they saw their students as co-producers in the class, bringing their different repertoires from other contexts, including the similarities and differences to the higher education context. Ntombekyaha Fulani spoke about how they helped students see how they are positioned as readers and how characters are positioned as subjects in texts; while Monica Hendricks touched on the value of bringing colleagues together with varied experiences and backgrounds in language, particularly when they were able to note different approaches to the same concepts and differentiate similarities.
Carol Thomson (CHERTL) and Mark de Vos (Linguistics) presented their analysis of questionnaire responses made by staff and students at Rhodes on student writing. In Writing practices, pedagogies and transformation, Carol first framed their analysis by talking about the relation of language to power and its socially embedded nature. Mark spoke about what the analysis revealed in terms of how the respondents framed 'writing well'.
Drawing from the Masters research of a student investigating how students are writing, Gwyn Ortner and her supervisor Undine Weber, reported on a study conducted in the German section of the School of Languages when corpus linguistic tools where utilised to aid student learning.
The parallel session after tea, falling under the theme Re-thinking the teaching and learning of research featured three papers which all interrogated supporting both postgraduate and undergraduate students in their research. Horst Kaiser's Inquiry-based learning of experimental design, data analysis and scientific writing outlined his approach to empowering third year students to generate and own scientific knowledge, as well as develop their scientific research identities.
Helping students connect with their creative strengths is the aim of Robert Berold's intervention as presented in Using intensive coursework to help MA creative writing students find direction. This is done through creative writing seminars, a massive reading list, feedback from practising writers and reading groups.
In Shifting Models of Postgraduate Supervision, Sioux McKenna and Chrissie Boughey explore the use of collaborative project teams in doctoral education in the Humanities and Social Sciences. Their presentation argues that project teams can increase doctoral student retention, foster greater conceptual depth and result in better postgraduate teaching.
For the panel discussion, two academic staff and a member of the BSM (who unfortunately could not attend) were invited to present on Transforming higher education: looking ahead. Natalie Donaldson (Psychology) and Mosiuoa Tsietsi (Computer Science) spoke to transformation issues that had been highlighted during the presentations of the day and challenged academics to think differently about their curriculum, their students and their teaching practices.
(Audio recordings and slides are available here)
By: Nompilo Tshuma and Dina Zoe Belluigi, CHERTL.
Source: Nompilo Tshuma & Dina Belluigi
Please help us to raise funds so that we can give all our students a chance to access online teaching and learning. Covid-19 has disrupted our students' education. Don't let the digital divide put their future at risk. Visit www.ru.ac.za/rucoronavirusgateway to donate