Tap to Close
Tap to Close
Research Areas
Research opportunities for prospective Masters and Doctoral candidates in:
---
Accounting
Taxation
Three research programmes in taxation are offered – a Master's degree in Commerce (Taxation), a Master's degree in Commerce (Accounting) and a PhD. Details regarding the three programmes are set out below. There are no specialization areas and any suitable topic in taxation is acceptable for all three programmes.
MCom (Taxation) – this supervised programme comprises a course-work component with a weighting of 40%, a course-work examination with a weighting of 10% and a mini thesis with a weighting of 50%. The course-work component comprises thirteen modules on which nine assignments are to be submitted. The modules are based mainly on case law in the more complex areas of taxation. The mini thesis is on a taxation topic of the candidate's choice, subject to approval by the supervisor. The length of the mini thesis is restricted to a maximum of 30 000 words.
MCom (Accounting) – this supervised programme consists of a thesis on a taxation topic of the candidate's choice, subject to approval by the supervisor, with a maximum length of 50 000 words.
PhD – this supervised programme consists of a thesis on a taxation topic of the candidate's choice, subject to approval by the supervisor
Research methodology – all three of the taxation programmes include a module on research methodology for self-study by candidates, which aims to provide an introduction to research methodology and the writing of a research proposal.
All of the programmes can be offered on a full-time, in attendance basis, or on a part-time, not in attendance basis.
Contact person for research degree opportunities in Taxation: Professor Lilla Stack (e.stack@ru.ac.za)
Accounting and Finance
In Accounting and Finance, our main research interests are linked to quantitative analysis, with particular emphasis on cross-sectional and time-series regression modeling involving the links between accounting information and equity market returns, as well as asset pricing questions in an equity market context. Within Accounting and Finance, we are currently not able to accept applications from students who wish to conduct qualitative research (such as normative analyses of accounting rules, or questionnaire-based studies), or who have critical (socio-philosophical) or behavioural (psychological) research questions.
We would be particularly interested in hearing from candidates who might be considering research in one of the following two broad areas:
The value relevance of South African accounting information
Empirical evidence on South African equity market returns
Contact person for research degree opportunities in Accounting and Finance: Associate Professor Mark Bunting (m.bunting@ru.ac.za)
---
Economics
Financial Markets
The Department offers a Master's degree in financial markets and has a research focus in this area.
The financial sector, not only in South Africa, but worldwide, has undergone far-reaching changes during the past two decades. There is a powerful trend towards increasingly intense global competition for financial services as improvements in communication technology have brought widely separated financial institutions into direct competition with one another. National financial systems are merging into one vast, global financial services marketplace where national borders mean less and less. Deregulation of the financial sector by governments has further stimulated the global spreading of competition for financial services. One of the results of these sweeping changes is that the present system of markets and institutions is both more sensitive and more alert to risk in all of its forms. Developments have included a changed attitude towards the implementation of monetary policy, the emergence of new financial instruments and products, new financial institutions and brokers and an increased level of activity in the markets. International trends and standards in banking supervision and financial regulation are, further, becoming the norm in South Africa as well. Innovative services and specialist institutions are being designed all the time.
Topics for theses and research publications include the operation and efficiency of the financial markets, the role of monetary policy, financial regulation, banking supervision (in particular the implementation of the Basel III Capital accord), the equity and bond markets, (eg pricing models and volatility) and derivatives.
Contact person for research degree opportunities in Financial Markets: Mr Rob Stuart (r.stuart@ru.ac.za)
SPECIAL RESEARCH PROGRAMME (Rhodes University Special Research Focus Area): Environmental and Natural Resource Economics in the Eastern Cape Research Focus Area (ENREFA)
‌
The ENREFA programme is housed in the Department of Economics and Economic History. The motivation behind the focus area is that the Province has an extremely diverse environment including one of the three globally recognised biodiversity hotspots found in South Africa, viz. the Maputoland-Pondoland-Albany Centre of Endemism. This is an area with a high concentration of biodiversity, which is under threat. An indication of the biodiversity of the region is that the Greater Addo Elephant National Park includes 5 of South Africa's 7 biomes. With the exception of the Nelson Mandela Bay Metropolitan Municipality and the Buffalo City Metropolitan Municipality, the Eastern Cape can be described as largely agricultural, consisting of both commercial and smallholder sectors and having a significant impact on the environment and the natural resources.
The research methods used will focus of the interface between environmental, ecological, resource and institutional economics. However, the intention is to focus primarily on the institutional economic aspects wherever possible. Specific topics within the research focus area include environment, ecological and natural resources, agriculture and sustainable development, with a special focus on water management and allocation.
Contact persons for research degree opportunities in Environmental and Natural Resource Economics in the Eastern Cape: Professor Gavin Fraser (g.fraser@ru.ac.za) and Professor Jen Snowball (j.snowball@ru.ac.za)
Development and Labour
Topics for research include: Poverty, the labour market, labour policy, trade and industrial policy. Research projects are often done in collaboration with the Labour Market Research Unit in the Institute for Social and Economic Research (ISER).
Contact persons for research degree opportunities in Development and Labour: Mr David Fryer (d.fryer@ru.ac.za), Ms Niki Cattaneo (n.cattaneo@ru.ac.za)
---
Information Systems
User Experience Research Group
User Experience (UX) focuses on improving the quality of the user's interaction with and perceptions of a product and any related services. This research group focuses on improving the UX of Information Systems and their associated ICTs. Research projects are undertaken in the following areas:
Mobile UX
Security and Usability
In-car UX
Responsive Web UX
Health IT consists of a number of technologies that are used to acquire, store, retrieve and use health information to improve patient care. This special interest group aims to improve the UX of health information technologies and focuses mainly on the following areas:
UX of mHealth technologies
UX of consumer health technologies
Usability and security of Health IT applications (e.g. EHRs, PHRs etc)
Visualisation of health information
Visit the UX Research Group web page.
Contact person for research opportunities in UX: Professor Greg Foster (g.foster@ru.ac.za)
Information and Communication Technology for Development: Ethical Research and Practice, Project Management, and Evaluation
While ICTs have the potential to enable socio-economic development and improved quality of life, literature also shows that ICT failures in developing countries continue to outnumber success stories. Literature highlights the need to establish guidelines for Information Communication for Development (ICT4D) practice that are both viable and have a sound theoretical basis. The reason is that IS theories, strategies, and technologies established in developed countries cannot necessarily be transferred to developing contexts and the assumptions about their applicability and associated approaches should be questioned. ICT alone cannot guarantee development while neo-liberal thinking and standardised modernist approaches to ICT introduction and implementation may in fact contribute to the continued trend of ICT failures in developing contexts.
Central to most ICT4D discourses is the need to critique and understand the assumptions about ICT and what ICT can do in developing situations. ICT4D projects should be implemented in such a way that the detrimental consequences of the introduction of ICTs in societies should be anticipated to avoid further dehumanisation of people. "Not all societies can absorb information technology without harmful side-effects such as loss of privacy, unemployment, computer crimes, technostress and similar woes." (Roode, 1993: 2).
In order to address the issues highlighted above, the ICT4D researcher and practitioner should find ways to do ICT4D work appropriately and ethically, i.e. introduce, align, and implement ICT4D projects so as not to create or reinforce oppressive circumstances or ideologies, or disrupt the unique social fabric of the people in the ICT4D project situation. Walsham (2012) proposes that the ethical goals of ICT4D research and practice should include "how we can use ICTs to support the poor of the world, not just the formal sectors and the economically well off." (p. 91). ICT4D research and practice should therefore be underpinned by a strong ethical agenda, supported by effective project management practice and comprehensive evaluation.
This topic area thus addresses the issue of ethical practice for community engagement and ICT4D implementation in South African contexts. We ask questions such as:
How should one do ethical research and practice in the unique ICT4D situations in African contexts? How do we ensure that ethical reflection remains a central part of ICT4D research and practice, and what principles should be follow for ICT introduction and implementation?
How can we comprehensively evaluate ICT4D interventions to guide progressive development, integration and adoption in human development programmes of developing countries?
What are the project management practices essential in various ICT4D initiatives to support their relevance, integration and sustainability?
Contact persons for research degree opportunities in Information and Communication Technology for Development: Prof Caroline Khene (c.khene@ru.ac.za)
---
Management
SPECIAL RESEARCH PROGRAMME (Sandisa Imbewu Funded Research): Chinese Organisations in Sub-Saharan Africa: New synergies, New Dynamics
There is a need in Africa to develop not simply effective organisational management and leadership, but also that which is appropriate to Africa. Similarly, it is not sufficient to develop knowledge for Africa, but to develop knowledge from Africa. African knowledge and culture, pertaining to the science (theory) and practice of Management, has been largely denigrated, as has the knowledge pertaining to Chinese management in Africa.
Brief Summary:
China's presence in Africa is changing geopolitical dynamics impacting at organizational and community levels. Little extant literature focuses on these levels. These dynamics also influence the ways scholars view Chinese activity. Critical theories in international organizational and management studies that draw on Postcolonial Theory focus on North-South dynamics. This may now be inappropriate to critically understanding a new South-South dynamic.
Research at organizational level of Chinese corporations and organizations in Africa is practically non-existent. This may reflect a previous lack of interest by management scholars in sub-Saharan Africa as an area of study. More recently research on this dynamic and important region has increased, yet may still suffer from a lack of theoretical grounding. Contemporary interest in critical studies such as Postcolonial Theory has given theory development an impetus, but still may be falling behind developments in other areas of the social sciences. Similarly theoretical and empirical developments in the study of China abroad are in their infancy. China, of course is present in other 'Southern' regions, not just sub-Saharan Africa. Therefore the current work may have wider implications for the further cross-cultural study of organization and management of Chinese organizations in other parts of the world, and for Chinese management policy and practice generally.
This international research project sets out to develop colleagues and capacity within an international collaboration that seeks to:
Develop cross-cultural theory and methodology to study these dynamics at an organisational level; and
Investigate the nature of Chinese organisational activity and its implications for Africa's economic, social and community development.
We believe this project will position the research partners at the forefront of research in this area, by leading an international network and through seeking to publish in top management journals in an area that is both topical, has implications for Africa's future development and implications for geopolitical relations on the World stage. At the same time commitment has been gained from a team of researchers that has the potential to substantially develop their research capacity, together with training doctoral and masters students.
We are expecting to cover at least the following (perhaps some overlapping) areas:
Organization and management of Chinese firms in sub-Saharan Africa [organization and management]
The nature of HRM and employment relations in Chinese organizations in Africa [HRM]
Synergies between Chinese and African cultures and values and implications for managing organizations [cultural synergies]
Strategies in practice: managers' interpretations of strategies and implications [strategies]
Stakeholder and community relations [stakeholders]
Negotiation relationships [negotiations]
The management of ethical values across cultures [ethics].
Initial funding of this project has been provided by the Sandisa Imbewu Fund at Rhodes University, with research cooperation between Rhodes University, South Africa; Middlesex University Business School, London; and Nanjing University, China. The Sandisa Imbewu Fund, meaning 'We are growing and multiplying our seeds" was initiated by Rhodes Unversity's Vice-Chancellor Dr Saleem Badat to establish a seed fund for strategic new academic initiatives. The seed fund is aptly named Sandisa Imbewu as it reflects Rhodes University's strategy to grow its postgraduate student numbers, research and development programmes and to multiply its postgraduate and research outputs towards enhancing its standing as the "Scholarly University".
The ultimate goal of the Sandisa Imbewu funded project is to develop a research focus area in the Faculty of Commerce that specialises in cross-cultural research on management and leadership in African organisations. This will incorporate an understanding of the global dynamics associated with, in this instance, Chinese presence in Africa. The focus can in time be extended to western and other 'southern' presence, such as the other BRIC countries, and their interaction with indigenous leadership and management.
Ultimately, the Department of Management would like to set the trend in this research area in South Africa in collaboration with its international colleagues, and increase its research scope to include the development of management and leadership knowledge from Africa, its capacity development and its ability to draw scholars from South Africa, other countries in Africa and internationally.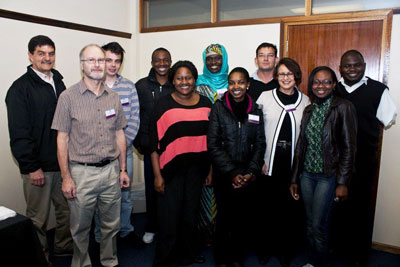 Sandisa Imbewu team members
For more information please refer to: http://www.ru.ac.za/managementdepartment/research/chineseorganisationinafrica/
Contact person for research degree opportunities in Chinese Organisations in Sub-Saharan Africa: Professor Lynette Louw (l.louw@ru.ac.za)
General Areas for Research
Topics for research include: Human Resource Management, Organisational Behaviour, Organisational Development, Labour Relations, Consumer Behaviour, Media Economics, Service Management, Critical Marketing, Marketing Management, Professional Ethics, Financial Management, Management Competencies, Emotional Intelligence, Cross-Cultural Management, Multicultural Management, Leadership, Project and Programme Management, Use of Technology in Teaching and Learning, eBusiness/eCommerce, Growth and Development of SMEs, Entrepreneurship and Small Businesses, Turnarounds, Poverty and Development, HIV & AIDS.
Contact persons for research degree opportunities: Professor Lynette Louw (l.louw@ru.ac.za)
---
Business School
PhD: The Rhodes Business School has an active doctoral research programme. Focus areas are in Leadership Development and Entrepreneurship. The main focus is around development of Leadership preferably using qualitative approaches.
MBA: As the MBA has a generalist approach, the range of research areas is quite diverse. Popular research areas are leadership, entrepreneurship, change management, strategy, marketing, project management and sustainability. Students are at liberty to research any area of business administration that is addressed as a module within the MBA. It may be in the form of a case study, evaluation report or academic paper, of 15 000 words on a research topic of the candidate's choice but aligned with some aspect of sustainability and subject to supervisory support.
Contact mba@ru.ac.za for more information on research in the Rhodes Business School, and visit http://www.ru.ac.za/businessschool/studying/phdprogramme/#d.en.140995
---
Last Modified :Thu, 30 Mar 2017 09:58:01 SAST