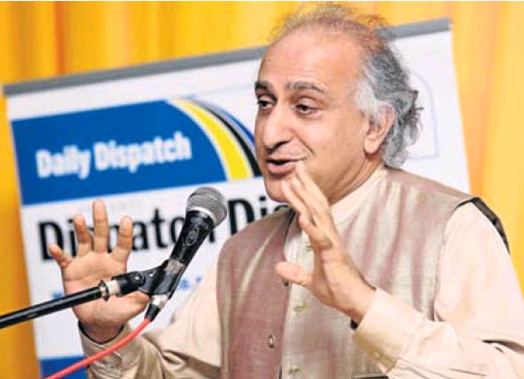 A lot of issues were never brought up
RENOWNED scholar and Rhodes University vice-chancellor, Dr Saleem Badat, captivated the Dispatch Dialogues audience last night when he spoke about his new book The Forgotten People that chronicles the political banishment of rural people under apartheid.
The dialogue, hosted by the Daily Dispatch in conjunction with the University of Fort Hare, was held at the university's East London campus.
Badat said the book was a continuation of work started by Dumisa Ntsebeza and Terry Bell in Unfinished Business: South Africa, Apartheid and Truth published in 2001. It touches on various issues and events during apartheid, which were either underrepresented or never brought up at the Truth and Reconciliation Commission (TRC).
"I don't want to be critical but the TRC has failed the nation to some extent," said Badat. He said the TRC only managed to trace 14 people who had been banished and were listed on the TRC's volume 7 file.
The former Azanian Students Organisation activist said his book answered some of the questions about how rural people who opposed apartheid were condemned to the living hell of banishment to distant and desolate places for unlimited periods.
They were plucked from their families and communities and cast into the most abandoned and far-flung areas across the country with no trial or charge. Being outsiders in strange areas, they could not speak the local language and often had little in common with the locals.
In total the book uncovered that 160 people were banished between 1948 and 1986 and only two were still alive.
Badat said 150 were men, the rest women. He said 140 of the 160 were from rural areas and 78 of the 140 were from from seven rural places in Mabieskraal, Witzieshoek and GaMatlala in the early 1950s, Bahurutshe and Sekhukhuneland in the late 1950s; Thembuland and Mpondoland in the late 1950s and early 1960s.
One of the Mpondoland leaders banished to Frenchdale Native Trust Farm in the Mafeking District was Theophilus Tshangela from Bizana, a leader of the 1960 Mpondoland revolt. Although his banishment order was withdrawn in 1972 after 14 years living under banishment, he refused to return home until his people were free.
In 1974, Tshangela was the last person at Frenchdale and he died there. In Tugela Valley, Kenneth Mosenyeni from Bahurustshe said his banishment order was an honour in the struggle for liberation.
Mosenyeni refused to request to be released from banishment, saying "I did not bring myself here." Badat said to complement his book, a documentary called Thrown Away has been produced and would premier on SABC early next year.
A travelling photographic exhibition will also make its way around the country.
Article by: GCINA NTSALUBA
Source: Daily Dispatch
Picture: MARK ANDREWS RECALLING STRUGGLE YEARS: Author Saleem Badat speaking during Dispatch Dialogues organised at the UFH campus in East London on Monday night
Source:
Please help us to raise funds so that we can give all our students a chance to access online teaching and learning. Covid-19 has disrupted our students' education. Don't let the digital divide put their future at risk. Visit www.ru.ac.za/rucoronavirusgateway to donate