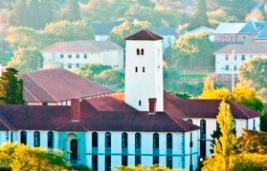 Rhodes > Vice-Chancellor > Latest News
11 National languages hampering South African education sector
Date Released:
Tue, 1 March 2016 16:27 +0200
Not much thought was given to future implications when South Africa declared there would be 11 official languages, Professor Adam Habib said on Monday.
"It took 30 years to construct dedicated universities and millions of rand to elevate Afrikaans and make it a language of instruction at these institutions," Habib said. "All we did in 1994 was to declare the official languages and left it at that. How these languages were to be introduced into the system was not discussed, nor planned for. "It was clear that English and Afrikaans would survive, but the idea of how any of the other official languages would gain due recognition was left to die." The Wits University principal was addressing the 5th Unisa Research and Innovation Week alongside Rhodes University vice-chancellor Dr Sizwe Mabizela and student leaders. They all painted a picture of a higher education system that was facing a crisis.
Source: http://www.radiowave.com.na/news/dailynews/17525-11-national-languages-hampering-south-african-education-sector
Source:Radiowave