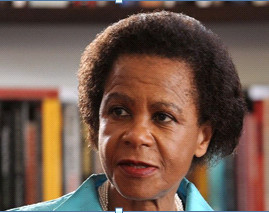 Rhodes > Vice-Chancellor > Latest News
ANC loves only power
Date Released:
Wed, 14 November 2012 08:59 +0200
Anti-apartheid activist Mamphela Ramphele has slammed the ANC for its backing of the Traditional Courts Bill, sky-high unemployment and the appalling standard of education.
Ramphele was speaking yesterday at the University of Cape Town's School of Business on the "Marikana Fallout".
As on previous occasions, she had harsh words for the ANC and the way in which it governs.
She spoke on a wide range of issues, including the mining and grape-farm strikes in Western Cape, and the role of labour unions.
Ramphele said the ANC treated voters "like children" and that the only time it would feel it had a duty to serve citizens would be when it feared it was in danger of losing power.
"Come election time, it will appeal to you to vote for the party of Mandela, [it will] appeal to you to vote for the only liberation movement [and] appeal to you not to vote for the DA because they will take you back to apartheid," said Ramphele.
"It's almost treating you like children and, unfortunately, we don't have civic education - where people understand that it is not possible to be taken back to apartheid.
"If you are poor and uneducated, you wonder if it is not possible that it can happen again."
Brothers Sipho and Barney Pityana, Rhodes University vice-chancellor Saleem Badat and businessman Reuel Khoza are among the many struggle activists who have spoken out against the ANC recently.
In September, Barney Pityana angered The Presidency during his Neil Aggett memorial lecture in Grahamstown. He said: "We must blame nobody but ourselves for the tragedy of our education system, a collapsing healthcare system, a bloated but inefficient civil service, pervasive crime, and corruption that is endemic.
"We have a government trapped in ideological blinkers that believes and behaves like it is unaccountable." His brother, Sipho, writing ahead of the convening of the commission of inquiry into the Marikana massacre, made similar observations.
He said that if one reflected on why 34 miners were shot and killed by the police, one could only blame "an acute failure of leadership in the ANC and the government it leads". In April, Khoza, writing the chairman's foreword in Nedbank's annual report, questioned the quality of South Africa's ruling politicians - "political leadership's moral quotient is degenerating," he said.
Shortly after Khoza's comments, Badat referred to the "culture of disdainful conduct and service, sheer indifference to the needs of people, and a sore lack of ethical and accountable leadership".
Speaking at a graduation ceremony, Badat suggested that South Africans had been "numbed into silence" and that their "citizen's duty" was limited to voting every five years.
Yesterday, Ramphele lambasted the unions. She said that, unless they evolved, they were committing "suicide" and the strikes leading up to Marikana demonstrated workers' increasing lack of faith in many unions.
She said her heart bled when she looked at the calibre of educators. "I come from a family of teachers. When I think about the apology that is called teachers in many of the schools my heart bleeds because we are condemning young, poor kids to being left in the hands of people who can't look after themselves.
"Many of those teachers who are members of the [SA Democratic Teachers' Union] are alcoholics, some are hooked on drugs and many are indebted to no end."
But Ramphele said some unions still had credibility, such as the National and Professional Teachers' Organisation of SA.
Ramphele slammed the Traditional Courts Bill, saying if enacted it would return the country to where apartheid "left us in 1994". She said South Africa needed to reinvent itself after the Marikana tragedy but warned of " opportunists who are riding on the back of Marikana and agricultural labour problems".
She said the country needed to introduce national service to counter the skills shortage, turn mining and agriculture into highly skilled industries, and eliminate illiteracy if the economy were to improve.
SA Democratic Teachers' Union media officer Nomusa Cembi described Ramphela's comments as "derogatory". "Teachers are a reflection of the community they come from. We feel grossly insulted. She acts as if she lives in a glass tower."
BY PHILANI NOMBEMBE | 14 November, 2012 00:01
Mamphela Ramphele wants a government that is afraid of losing power
Image by: Foto24 / Nasief Manie / Gallo Images
Source: