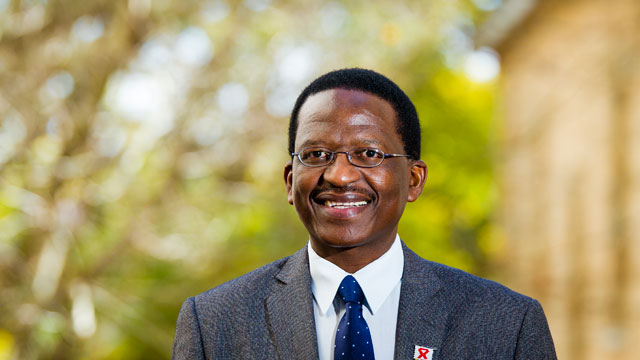 Rhodes > Vice-Chancellor > Latest News
Letter to parents
Date Released:
Fri, 7 October 2016 08:56 +0200
As an important stakeholder of Rhodes University, I would like to apprise you of developments on our campus.
Higher education, in general, and Rhodes University, in particular, continues to experience varying levels of student protest action. Under difficult circumstances, our academic programme is continuing despite efforts by the protesting students to intimidate other students and disrupt lectures, tutorials and practicals. The majority of our students and academic and support staff remain committed to ensuring that we have a successful completion of the 2016 academic year and are making every effort to support students who wish to continue with their studies. Our academic staff are providing support to our students using a variety of IT platforms.
Our students' well-being and academic success are of paramount importance to us. Many of our staff and students have gone above and beyond the call of duty to provide emotional and psychological support to those in our University family who have been traumatised by the situation on campus. Our wardening and counselling staff have had to support many anxious and emotionally drained and exhausted students. I'm deeply grateful to each one of them.
As you may have seen on various media platforms, there was an arson attempt on the Main Admin Building on Saturday, 01 October 2016. Prompt response helped keep the levels of damage to the building to a minimum. In the morning of Tuesday, 04 October 2016, our University experienced several acts of vandalism. In one case a small residence was padlocked from outside thereby seriously endangering the life of the occupants of that residence. Some dining hall readers and doors were sealed with glue. Repairs are in the process of being effected, and evidence collected with the view to laying charges against those who committed these unlawful acts. Once identified, firm action will be taken against them. We are deeply distressed by these criminal acts and condemn this unacceptable behaviour.
Given the size and shape of our University, we acknowledge it does not have the capacity nor the capability to deal with violent protests. Our view is that a university should never develop such a capability as this will lead to a militarisation of our campus. We hold the view that all disputes and disagreements in an institution of higher learning should be resolved through the power of reasoned debate and argument and that the use of violence to advance one's goal, no matter how noble it may be, should never be condoned. A university is a place that should encourage and deepen the culture of reason, rationality and logic. Given the lack of internal capacity and capability to deal with the violent protests, we have had to rely on the State's law enforcement agency, the South African Police Service (SAPS) to assist us. As noted in my previous letter to you, I was deeply distressed with a video footage of Wednesday, 28 September 2016, which showed some members of SAPS handling students in a high-handed manner. Our Senior Leadership met with the Police Management and we registered our concerns with them regarding this matter. We sincerely hope there will be no repeat of such.
I wish to reiterate our institution's position regarding the key issue of funding of our public higher education system and the need to make quality public higher education progressively accessible and affordable in our country.
- First, we support the call for 'free'[1] quality public higher education for academically capable students who come from poor families.
- Second, we support the call for the creation of a sustainable funding mechanism that will assist those academically capable young people whose family income is above the cut-off point for the National Student Financial Aid Scheme (NSFAS) but cannot afford to fund their higher education.
- Third, we support the call that those who have means and can afford to pay for their higher education should do so.
- Fourth, we support the call for increased funding of our public higher education system so that we can provide the quality educational experience that our students deserve.
- These points were emphasised at a recent multi-stakeholder forum convened by the Minister of higher Education & Training, Dr Blade Nzimande. You can access the video footage of our input in this regard on https://youtu.be/SzTjGaB8MLc?t=38

We are committed to working with all like-minded people to persuade our national government and the private sector to help address the dire funding situation in our public higher education system in line with the four commitments mentioned above. The majority of our students and staff identify with these four commitments. They also appreciate that these cannot be realised in a day, week or month and that we, together with other role players in our public higher education system, need to invest time and energy to achieve the four objectives we have articulated.
Our view is that our effort to advance the realisation of these objectives, on the one hand, and continuing with our academic activities, on the other, are not mutually exclusive or incompatible. In fact, these two are mutually supportive – we must invest time, energy and resources for the realisation of the four imperatives and at the same time ensure that we continue with our academic activities. We cannot place in jeopardy or sacrifice the future of the current generation of our students in the name of pursuing the above imperatives. We cannot associate ourselves with the view espoused by some that there must be 'free' education for all or no education at all.
It remains our highest priority to see a successful completion of the 2016 academic year. We are doing all in our power to achieve this objective. Among other things,
- lecture classes are held even though some have been disrupted;
- all learning materials, including notes, exercises, tutorials and assignments have been made available through our online learning platform, RU Connected;
- academic staff are available at all times for consultations and guidance;
- our library is fully operational.
We thank you for your support and understanding as we navigate this difficult time in the history of our public higher education system. Thank you also, for supporting and encouraging your daughter/son in this difficult time.
Yours sincerely
Dr Sizwe Mabizela, Vice-Chancellor, Rhodes University
---
[1] The term 'free' is used loosely to mean 'taxpayer-funded'. There is no free education. Taxpayers of our country pay for what is colloquially referred to as free education.
Source:Vice - Chancellor