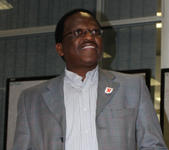 Rhodes > Vice-Chancellor > Latest News
Mathematician appointed vice-chancellor of Rhodes
Date Released:
Mon, 13 October 2014 16:07 +0200
Respected mathematician Sizwe Mabizela has been appointed vice-chancellor of Rhodes University. He would take over on November 1 from Saleem Badat, who resigned to join the Mellon Foundation in the US, said Vuyo Kahla, chairman of Rhodes's council. The foundation works to strengthen the humanities, arts, culture and higher education.
Kahla said Mabizela had been a member of the Foundation for Research Development and National Research Foundation for 13 years. He has served on the advisory panel for the rating of researchers and been chairman of the National Research Foundation's mathematical sciences grant applications committee.
He has also been a member of the African Institute for Mathematical Sciences, and an associate professor and deputy head of UCT's mathematics and applied mathematics department. "Dr Mabizela enjoys the support and confidence of council to lead the university ... and drive the finalisation of the institutional development plan intended to address the grand challenges faced by the university," Kahla said.
The University of Stellenbosch has advertised for nominations for a successor to Professor Russel Botman, who died in his sleep on June 28. Written nominations by members of the convocation may be sent to the university, with 20 supporting signatures.
A statement from the nominee accepting the nomination must be included. The closing date for nominations is November 6.
By Lisa Isaacs
Article Source: CAPE TIMES
Source:Cape Times