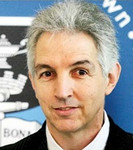 Rhodes > Vice-Chancellor > Latest News
New head for Higher Education SA board
Date Released:
Thu, 27 March 2014 13:50 +0200
Higher Education South Africa (Hesa) yesterday announced the appointment of its deputy chair Dr Max Price as the new interim chairperson of the Hesa board.
Price replaces Dr Saleem Badat who stepped down as the board's chairperson. Badat also resigned as vice - chancellor of Rhodes University. Hesa CEO, Dr Jeffrey Mabelebele, has welcomed the appointment of Price. "On behalf of Hesa, I would like to express our gratitude to Dr Badat for the sterling contribution he made over the years to the work of Hesa.
Undoubtedly, Dr Badat contributed immensely to the policy reforms in our higher education system," Mabelebele also hailed Badat's contribution to higher education. "Equally, Hesa is pleased to welcome a person of Dr Price's calibre as its Interim Chairperson and looks forward to working with him to further advance the interests of our higher education system as a whole," Mabelebele said.
Price had been instrumental in transforming the University of Cape Town since he joined the institution in 2008. Some of his achievements include elevating UCT status to be recognised as the leading university in Africa and the world.
Price was serving his second term as deputy chairperson of the board of Hesa. He also served as a chairperson of the National Committee of Medical Deans and served for 10 years as a member of the Medical and Dental Professions Board of SA.
Caption: NEW ROLE: Dr Max Price has been appointed as the interim chairperson of the Hesa board. PICTURE by: Gallo Images
By: Lerato Diale
Article Source: THE NEW AGE
Source:The New Age