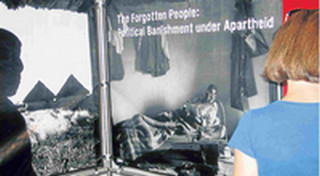 Rhodes > Vice-Chancellor > Latest News
Peek into world of the exiled
Date Released:
Tue, 26 February 2013 08:59 +0200
Activists exhibit highlights 'hellholes'
BANISHED from their homes without recourse to justice, ignored by most and largely forgotten by history.
This was the fate of dozens of South African activists under apartheid whose actions were considered "inimical to peace and good order" and who were banished to various remote state-ordained hellholes under the notorious Native Administration Act of 1927.
But Omar Badsha's powerful exhibition, The Forgotten People - Political Banishment under Apartheid, provides a stark reminder of who they were, what they fought for and how they suffered in exile in alien environments far from family, friends and familiar struggles. Currently on display at Grahamstown's Albany History Museum, the exhibition is based on Rhodes vice-chancellor Dr Saleem Badat's book The Forgotten People.
The large panels zig-zag their way across a hall, their photographs and words depicting the struggles of the likes of Paulus Mopeli, a Basotho chief and grandson of Moshesh from Witzieshoek in the Free State. He, along with several activists from the former Transkei, were banished to "the frightful nothingness" of Frenchdale Trust Farm, a remote banishment camp near Mafikeng in the North West province.
"There are no children's voices, no yipping dogs, none of the murmuring sounds of daily living," is how Badat described the camp. Anti-apartheid activist Helen Joseph once described their lives as a "slow torture of the soul, a living death". At the opening of the exhibition this week, Rhodes University History Professor Paul Maylam described banishment as an insidious instrument of oppression which was worse than direct imprisonment or torture.
"They were plucked from their homes and banished to these far-flung areas. There was no charge, no trial and no chance to present a defence - the process forced through by government edict." Dr Mamphela Ramphele, banished in 1977 for her activism in the Eastern Cape to Tzaneen, described it as "torture".
Despite this, the then young medical doctor managed to form a health programme in the area and vigorously set about empowering the women. Between 1948 and 1986 more than 160 people were banished from their homes and left to "rot" in banishment camps.
Some of their stories are powerfully told at the exhibition through the potent photographs of, among others, renowned South African photographer Ernest Cole. Badsha, a historian and photographer, said he hoped the exhibition and Badat's book would go some way to persuading government to "reopen that part of history and ensure these people are compensated or at least recognised".
Caption: REMEMBERED: 'Forgotten People — Political Banishment under Apartheid' is on display at Grahamstown's Albany History Museum
By ADRIENNE CARLISLE
Picture SUPPLIED
Source: Daily Dispatch
Source: