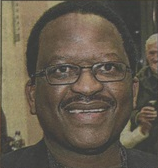 Rhodes > Vice-Chancellor > Latest News
Rhodes appoints first black principal
Date Released:
Mon, 13 October 2014 16:42 +0200
Rhodes University has announced the appointment of mathematician Dr Sizwe Mabizela as the institution's principal and vice-chancellor.
Announcing the appointment yesterday, chairman of the university council Vuyo Khahla said the council unanimously approved Mabizela's appointment as the university's principal and vice-chancellor with effect from next month.
"This appointment is for a period of seven years and may be extended for a further term determined by the council at its discretion," Khahla said. Mabizela has made history by becoming the first black African person to head Rhodes, replacing former principal and vice-chancellor Dr Saleem Badat.
Badat left three months ago to take up a post in New York with the prestigious Andrew W. Mellon Foundation. Khahla said Mabizela is a leading scholar with impressive and extensive publications covering his research and teaching interests of applied functional analysis. Mabizela was previously an associate professor and deputy head of the University of Cape Town's department of mathematics and applied mathematics. He was also visiting professor in the department of mathematics at the University of Zimbabwe; and professor and head of mathematics at Rhodes.
Since 2008, he has been Rhodes' deputy vice-chancellor in charge of academic and student affairs. Mabizela is the outgoing chairman of Umalusi, the council for quality assurance in general and further education and training.
By: Siphe Macanda
Article Source: SOWETAN (KZN)
Source:SOWETAN (KZN)