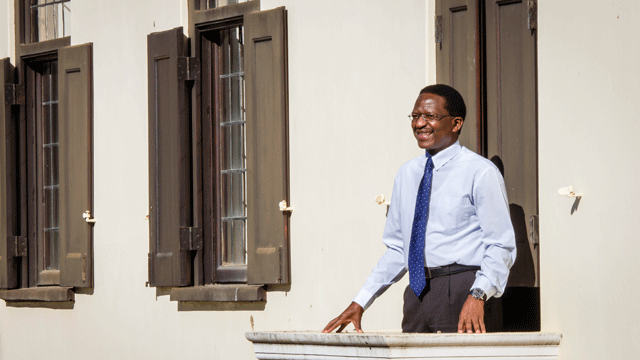 Rhodes > Vice-Chancellor > Latest News
Rhodes VC announces measures to address sexual violence shortcomings
Date Released:
Mon, 9 May 2016 11:13 +0200
Rhodes University has committed to taking a stronger stance against the perceived "institutionalised rape culture" at the institution after mass protests erupted last month' vice-chancellor Dr Sizwe Mabizela has said.
This comes after campus exploded when students' who were protesting against rape at the institution under the hashtag #RUReferenceList' barricaded entrances to the campus on April 17 and continued with protest action throughout the week.
The protest came after tension at the university erupted when hundreds of students started searching residences for alleged rapists and threatened an academic shutdown when the names of 11 male students accused of rape were posted on social media.
Classes were disrupted' and students and staff threatened with violence.
Five students — Natasha Piprek' Tom Bower' Carla Botha' Christopher Jardine and Austin Ndyetabula — were arrested under charges related to the Gatherings Act' for allegedly ignoring an order to disperse.
They were released on warning until their next court appearance on July 20.
Last week' Mabizela released a letter detailing the events in attempt to ensure alumni' parents' donors and funders of Rhodes University that the safety of all the staff and students is a matter of great importance.
In the letter' Mabizela acknowledged the excessive pain and anger experienced by the students and staff who have been subjected to sexual violence at Rhodes or prior to joining the Rhodes community.
"We have committed ourselves to both short-term and long-term efforts to address shortcomings in our systems that are intended to respond to the needs of our students and staff."
Mabizela listed the following as adjustments:
"In respect of those who experience sexual violence at Rhodes' we want to ensure that the perpetrator is reported without delay and taken through the legal processes expeditiously.
"We have committed to ensuring that all our systems' procedures and processes are very responsive to the needs of the survivors.
"The Legal Resources Centre is assisting those who wish to lay charges of sexual assault. We have committed to engaging the services of external legal experts to prosecute these cases without delay.
"We are reviewing our Sexual Offences Protocol with a view to ensuring that the survivors of sexual violence are not burdened with onerous hurdles to establish the guilt of the accused.
"A website entitled 'Information to help Deal with Sexual Violence' has been created and can be found at: http://ruconnected.ru.ac.za/course/view.php?id=5432
"An interim Task Team' convened by Prof Catriona Macleod and Ms Thabani Masuku (a student)' has made three public presentations on the Terms of Reference and Mandate of the Task Team. I have attached to this letter a document that has been prepared by this Interim Task Team.
"Funding has been made available for a PhD student in the Law Faculty to research our national legislation on Sexual Offences in order to shift the burden of proof of guilt in cases of sexual violence away from the survivor.
"We must never rest until the pernicious scourge of sexual violence in general' and rape in particular' is permanently eradicated from our society. Our University has an opportunity to lead the way."
Classes and extra-curricular activities have since resumed at the institution. – TMG Digital/The Herald
Source: http://www.dispatchlive.co.za/news/rhodes-vc-announces-measures-to-address-sexual-violence-shortcomings/
Source:Dispatchlive