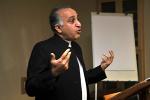 Rhodes > Vice-Chancellor > Latest News
Schooling: Failures, challenges – Dr Saleem Badat
Date Released:
Thu, 24 September 2009 08:15 +0200
WE CONTINUE to be plagued by stubborn realities that prevent the achievement of constitutionally and legally enshrined educational imperatives and goals. We need to honestly and openly acknowledge failings and shortcomings and what accounts for these, and creatively and courageously confront them.
Since 1994 there have been important economic and social gains. Yet South Africa continues to be a most unequal society in terms of wealth, income, opportunities and living conditions. The Gini coefficient, which is a measure of income inequality, increased from 0.665 in 1994 to 0.685 in 2006.
The income of the poorest 20percent of our society has fallen since 1994 from 2.0percent to 1.7percent; the income of the richest 20percent has risen from 72.0percent to 72.5percent. The per capita income of the richest 20percent has risen much faster than that of the poorest 20 percent. A total of 43percent of our fellow citizens continue to live on an annual income of less than R3000 per year.
There is a powerful link between income and equity of opportunity and achievement in schooling. Sixty percent of African children in South Africa are from families that earn less than R800 a month; 60percent of white children are from families whose income is more than R6000 per month. The consequences are evident in school performance and achievement.
Without effective interventions by government to improve the economic and social conditions of the poor and the unemployed, restricted educational opportunities and poor outcomes will be largely borne by these social groups.
It is clear that we must remake our schools if we are to transform education and ensure that it contributes to individual and social development. Serious attention has to be given to various issues and systemic and long-term initiatives are required.
First, early childhood education has great educational and social benefits and must be a policy priority. The Nobel Prize-winner for economics, James Heckman, writes that "it is a rare public policy initiative that promotes fairness and social justice and at the same time promotes productivity in the economy and in society at large. Investing in disadvantaged young children is such a policy".
Second, while we have almost universal participation in schooling, there are major problems related to dropouts, retention, progression and successful completion. Two out of 10 students drop out after Grade 3; four out of 10 after Grade 9, six out of 10 after Grade 10 and 7.3 after Grade 11. A little more than a quarter of the students that begin Grade 1 complete Grade 12. "The simple reality is that enrolment is not the same as attendance and attendance does not imply learning."
One serious challenge is that in 2005 10percent of our 7000 secondary schools – the independent and Model C schools – produced 60percent of all students who could attend university. Ten percent of the historically black schools produced a further 20percent of such students. The remaining 80percent of secondary schools, largely historically black, produced only 20percent of students who could attend university.
The key challenge is to improve the quality of education in schools. Finances for equitable access for poor students, targeted nutrition programmes, facilities, toilets and the adequate remuneration of educators are all important. However, they are not enough for effective schooling and education. There are also a number of other vital conditions.

One is a culture of effective learning and teaching, and to restore this where it is absent. Key here is courageous and effective educational leadership and management on the part of the national Department of Education, provincial ministries, district offices and especially school heads. Effective leadership and management is a key distinguishing feature between the 10percent of historically black schools that produced 20percent of the students who in 2005 could attend university and the other 80percent that produced only 20percent.
A second condition is "qualified, motivated, and committed teachers", who are "the single most important determinant of effective learning". A third is high quality learning material and textbooks. "Effective assessment is also at the heart of ensuring that learning is effective", as is "developing robust monitoring and assessment systems to monitor student performance". Finally, "the more schools are held to be accountable the more effective they are", which raises the importance of school governing bodies.
If these are the key conditions for effective education and schooling, to what extent are they in place, and in what percentage of South Africa's schools? If they are not in place, why not?
The apartheid legacy in education and schooling is pervasive and pernicious. Yet, we cannot forever hold apartheid alone culpable. If we are not to permanently be its victims we have to take the initiative and also not avoid certain hard questions.

These questions include:
l Whether, as leaders, managers and educators, we fully understand the importance of knowledge and education, and the serious intellectual, moral, political and organisational responsibilities associated with educating our people;

l Whether we fully grasp what is at stake and the implications of our choices, decisions, actions and non-actions for our society and current and future generations;

l Whether we have the values, policies and strategies to progressively realise our education goals. Are these goals substantive or largely symbolic – nice words and good intentions but with little commitment to effective interventions and practices!; and

l Whether we have at national, provincial and district levels an effective and efficient public service that possesses the educational expertise, and leadership, management and administrative capabilities to support schools.

Unless we address our problems we will continue to deny millions of South Africans an education that develops their capabilities and affirms and advances their human and social rights. We will also block a key avenue to social transformation and development.
"Although education cannot transform the world, the world cannot be transformed without education."
Dr Saleem Badat is vice-chancellor of Rhodes University. This is the first of two parts of an edited, recent address to the Annual Conference of the Headmasters of the Traditional State Boys' Schools of South Africa, at Queen's College, Queenstown. Tomorrow his topic is "We need rich ideas of education and development"
Source: