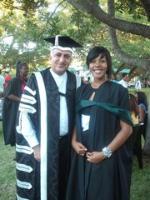 Rhodes > Vice-Chancellor > Latest News
We've lost one of our best
Date Released:
Mon, 23 April 2012 08:25 +0200
I DEAL with grief, shame and anger in the quiet of my study, in solitude and with words. These are my words for Lelona Thembakazi Fufu. Born: Christmas Day, 1988. Died: April 12 2012. Age: 23.
Usually, remembrance of a student is through the pleasure of supporting a scholarship or job application. In the case of Lelona, biography and achievements would have combined to make remembrance especially joyous, fulfilling and pleasurable.

Today, however, these words of remembrance are coated with heartache, remorse, shame and anger. An intelligent and academically outstanding young woman slain in the prime of her life. A promising life brutally cut short. A tragedy, whichever way you look at it.

From Mbabala Street, Motherwell, Port Elizabeth, Lelona did not get direct admission to the BSc degree programme at Rhodes University. She attended Masiphathisane Senior Secondary, but did not obtain the required admission points for Rhodes.

She was considered underprepared for the rigours of a Rhodes degree. And so, Lelona entered the Rhodes BSc extended studies programme in 2007.

When I met her on February 22 2007, I told her she had made an excellent choice in choosing Rhodes, as we were committed to producing high quality graduates who were equipped to change South Africa, Africa and the world. I emphasised we had also chosen her - because we recognised that she possessed the intellect, potential and talent to succeed.

I reminded her that her choosing Rhodes, and us choosing her, meant there was between us a partnership of mutual commitment to learning, and the pursuit of knowledge. (I pledged we would provide her with a stimulating and enabling environment that developed her intellect, and supported, lute her to graduate as a knowledge- able and skilled professional, a critical intellectual, and a caring and compassionate person. Her responsibility, in turn, was to seize the opportunities that Rhodes would provide, and to develop her talents and promise to the full.

She took the message to heart. And she blossomed. She completed her extended studies BSc degree in the minimum four years and graduated at the end of 2010. Majoring in mathematics and mathematical statistics. More than 70% in mathematics!

Last April, on a bright Saturday afternoon, we posed together for a photo on the Drostdy lawn. It was a happy day, of celebration of her success, of the promise still to come. In 2011 she read for a joint honours degree in mathematics and mathematical statistics. She obtained 72%. She could have continued with a masters degree in mathematics.

Instead, she applied for and was accepted for a Postgraduate Certificate in Education. She did not register at Rhodes this year, choosing to take a job in Durban. Lelona returned to Port Elizabeth to attend her graduation ceremony last Thursday evening.

There is no efficient public transport between Port Elizabeth and Grahamstown. The train service was shut down long ago. There is actually not even a reliable and affordable taxi service between the two cities.

I learnt during a "Conversations with the VC" lunch session with students in the Archbishop Tutu Hall that Lelona did what some Rhodes students who travel between Port Elizabeth, East London and elsewhere in the Eastern Cape and Grahamstown do: she tried to hitch-hike to Grahamstown and her graduation ceremony. Only she never got to Grahamstown, never got to her graduation, never got to walk, probably in carefully and beautifully chosen attire (bright high, high heel shoes were the rage this year), across the stage at the Monument.

"Lelona werr rrrr you?" tweeted Muanda Dombaxi at 4.17, an hour and 43 minutes before the start of the science faculty graduation ceremony. No response.

Lelona never got to hear the loud and appreciative applause of the packed audience of proud parents and families. Her own parents among them, wondering about her absence with growing alarm. From her previous graduation, she would have known that the audience is greatly appreciative of honours and other postgraduate students.

That it is especially appreciative of students who excel in mathematics. She never got to experience the appreciation, and the joyous and inspirational evening of acknowledgement and celebration of her dedicated endeavour, her wonderful achievements.

Had she been at her graduation she would have heard me say that she was among the best and brightest of our society. That we looked to people like her to exercise leadership, to re-imagine and reshape our future, to forge new ways of conducting our affairs, to make people and justice the vital centre of all our actions.

That in the years ahead we looked forward to applauding her successes and achievements as an Old Rhodian. I concluded: "Tonight is your night, to remember, to celebrate and cherish. No doubt the parties will extend long into the night and there will be much merriment. You have earned it and I wish you a wonderful and joyful celebration of your achievement and your future promise."

Lelona will not be able to lead and we will not be able to applaud her achievements. And we are the poorer for this. She was not able to cherish the night, to party, be merry to joyfully celebrate her achievements and great promise. Lelona had her life, and all the things she could look forward to, stolen from her.

The Fufus have had a daughter, sister, niece, granddaughter stolen from them. One of our brightest and best has been stolen from us in another senseless act of violence, in another display of our culture of impunity and the lack of respect for human life. Lelona should not have had to hitch-hike.

Shame on us! The cities and towns of our land need to be connected - with safe, reliable and affordable public transport. In the meantime, we will investigate why our students hitch-hike, how we can discourage them, assist those who rely on public transport, and ensure they travel safely to and from Rhodes so that there is not another tragedy like that of Lelona.

Perhaps whatever scheme we devise can be a memorial to Lelona so that the death of Lelona Thembakazi Fufu is not entirely in vain.

Dr. Saleem Badat is vice chancellor of Rhodes University.
Source: