Ganiyu Akinloye Jimoh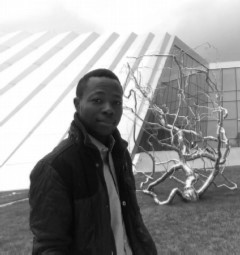 Ganiyu Jimoh holds a PhD. in Art History from the University of Lagos, Nigeria. His research focuses on contemporary art, new media, satire and cartoons in relation to spatial negotiations, transnationalism and cultural politics. His work has attracted significant awards including the prestigious University of Lagos Best Researcher Award in Arts and Humanities in 2011. He was a doctoral fellow at the African Studies Centre and Special Cartoon Collection Unit, Michigan State University, USA in 2015. He was among cartoon scholars selected for the Transnational Graphic Narrative (TGN) Summer School at the University of Siegen, Germany in 2017. Ganiyu lectures at the Department of Creative Arts, University of Lagos. He was a Research Associate from January 2018 to January 2020, and an NRF Postdoctoral Fellow in 2019 both at Rhodes University, South Africa. Ganiyu was also an African Studies Association (ASA) Presidential Fellow and the University of Edinburgh Catalyst Fellow both in 2019.
He has presented his works on visual satire and political representation in Nigeria, South Africa, Germany, Uganda, Ghana, the USA and the UK.
He was the co-host of the 2019 PROSPA publishing workshop held at the University of Lagos in November 2019. Ganiyu is currently a project advisor on the Arts and Humanities Research Council, sponsored research on the Visual Articulation of Politics in Nigeria Elections. As a scholarly writer who is also a practicing political cartoonist, Jimga (cartoon signature) has several local and international exhibitions to his credit and has served as the Secretary of Cartoonists Association of Nigeria (CARTAN) from 2017 till 2019. His political cartoons could be accessed at www.jimgatoons.com
Last Modified: Wed, 22 Jan 2020 08:52:26 SAST