Rhodes > Arts of Africa > Writing and Outputs > Writing: Reviews & Think Pieces > Gathering Strands
Writing: Reviews & Think Pieces
Gathering Strands
The head of my research programme, Arts of Africa and Global Souths, at Rhodes University, asked a couple of my colleagues and me to give exhibition walkabouts on behalf of the National Arts Festival at the Standard Bank Alumni Gallery in the Albany Museum. There were two options: a group exhibition entitled Shifting Conversations and a solo, Gathering Strands, by Lionel Davis.
I instinctively chose the latter simply because it would fit into my personal festival schedule. I knew next to nothing about Davis. Little did I know I would be introduced to the work of a relatively unsung anti-apartheid hero.
A day before my first walkabout, I met with the curator Earnestine White who walked me through the exhibition, step by step and familiarized me with it. "Andrew," she said to me "what we have here are not only the personal memories of one man, they are the collective memories of a nation". She was right, the imagery of the prints, posters, drawings and mixed media paintings reflected recollections of the struggle for freedom as well as the ongoing processes of racial, economic and national reconciliation.
After my meeting with White, I rushed off to other obligations, only returning to the exhibition space later to immerse myself in a video in which Davis talks about his life and work. Later on that night, I sponged up segments of the exhibition catalogue that White had so generously lent me. Considering myself the newest expert on Davis, I was ready for my first walkabout the following morning.
The first group was a small one, which at least was fortunate on my part as I could easily maneuver my guests around the exhibition space. As a retrospective, the display was laid out almost chronologically, making it easier work.
With me leading the group, we started from a cluster of prints, which Davis made in the early 1980s that told the story of District Six, a community on the slopes of Cape Town's Table Mountain near the city center, the place in which he was born on 21 June 1936. The images narrated scenes of his youth in an area later declared a White Group Area by the apartheid government and subsequently demolished, and its inhabitants – including his family – displaced. This is an act that would inspire young Davis to become an activist, with his involvement in liberation activities leading to his arrest for conspiracy against the apartheid regime, and subsequently his imprisonment at Robben Island for seven years, and later house arrest for five years.
The events of District Six's lifespan were actually created from memory. Davis might be described as a late bloomer artistically, only pursuing art professionally at the age of 41 after taking his first formal art classes at the Community Arts Project (CAP).
Placed opposite the District Six prints was a glass case that held some of his early sketchbooks with poster designs from the era. It is at CAP where he produced general information posters as well as protest posters using the silkscreen process.
An adjacent wall featured two of the most evocative works in the exhibition entitled A Tribute to Robben Islanders 1 and 2. Placed as a diptych, the mixed media works mimicked the steel doors of a prison, and on them were inscribed hundreds of names of inmates with whom Davis served time. To me, and to many of my guests during the walkabout, this was a reminder that thousands of prisoners, many of whom we have never heard of before, spent many miserable years of hard labour at the island prison which is synonymous with Nelson Mandela; it is often thought that he was the only one to have ever been incarcerated there. Nevertheless, Davis' artwork reminds us that so many inmates had passed through those prison walls, accompanied by a quote from the artist, he also reminds us of the harsh treatment from prison wardens, the hard labour and terrible food that went with the incarceration.
I led the group on to the largest wall in the exhibition space, which had numerous colour prints, mixed media installations, figure drawings and mosaics created over a 40-year period. The colour Prints were from the time he attended the Ruth Prowse School of Art at Rorke's Drift. In them were portrayals of the annual Kaapse Klopse or Cape Town Minstrel Carnival – one of his favourite subjects – alongside depictions of the apartheid era: police brutality, protests and funerals, also illustrated from memory. The mixed media installations and sculptures were from his involvement in the Thupelo International Artists Workshop in Cape Town and Greatmore Studios in Woodstock, for both of which he has been a regular organizer, teacher and participant continuously interacting with newer generations of artists over the years. Most are created using objects such as discarded telephones, repurposed wood and metal proving his versatility as an artist. The figure drawings and experimental collages endorse his passion for investigating new material as well as the celebration of the human form.
Towards the end of this wall, was the earlier mentioned video of the artist, in which he discusses his work; a video which I would courteously ask my guests to take a moment to watch at the end of the walkabouts. To the right hand side of the video screen were some of his later works, more collages, abstract paintings and prints which again faced a small cluster of human figure drawings from live sketch sessions. As much as he has a passion for experimenting, his process is clearly rooted in conventional Fine Art production processes. Apart from CAP and Rorke's Drift, Davis attended the University of Cape Town where he graduated at the age of 58.
Personally, not only did I find Davis an inspiring reminder that it is never too late to pursue ones passions, but the experience of giving a walkabout on his work was enriching. It brought to me a realization that as much as the exhibition was a retrospective, much of what is reflected in it resonates with present day issues in South Africa, particularly the land debate which is reaching fever pitch at the moment with the 'expropriation without compensation' question being the most prevalent issue.
Gathering Strands was made possible by a collaboration between the Iziko Museums of South Africa and the District Six Museum, and before coming to the National Arts Festival in Grahamstown (Makhanda), it opened at the District Six Museum on Davis' 81st birthday last year. At 82 Davis is still very agile and enjoys to create art on a daily basis, he lives and works in Cape Town.
~ END ~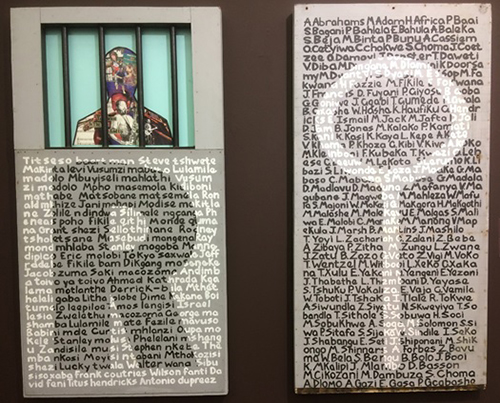 Lionel Davis, A Tribute to Robben Islanders 1 and 2, c.2000, mixed media, Gathering Strands exhibition at the Standard Bank Alumni Gallery, Albany Museum, Grahamstown, National Arts Festival 2018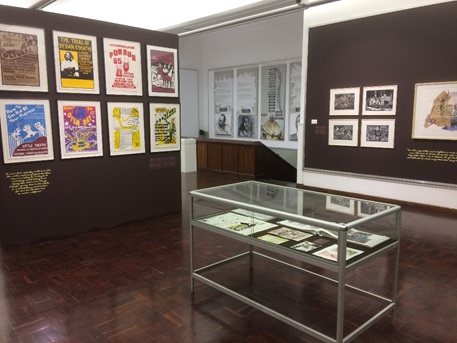 Gathering Strands exhibition at the Standard Bank Alumni Gallery, Albany Museum, Grahamstown, National Arts Festival 2018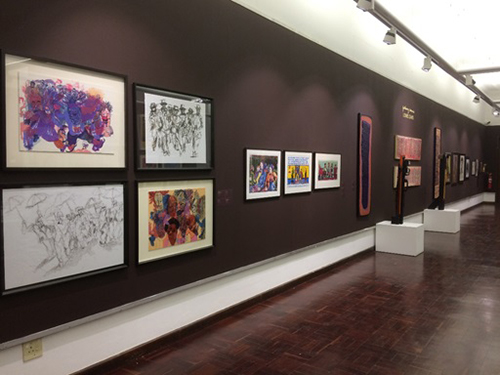 Gathering Strands exhibition at the Standard Bank Alumni Gallery, Albany Museum, Grahamstown, National Arts Festival 2018
Andrew Mulenga is a PhD candidate with the NRF/DST SARChI Chair Geopolitics and the Arts of Africa, Arts of Africa and Global Souths research programme headed by Prof Ruth Simbao at the Department of Fine Arts, Rhodes University, South Africa
Last Modified: Mon, 11 Feb 2019 10:43:13 SAST