RESEARCH PROGRAMME
Malaria drug target validation
Malaria is caused by protozoan parasites that are transmitted to humans by Anopheles mosquitoes and cause disease through the cyclical invasion, modification and destruction of host red blood cells. Plasmodium falciparum is the parasite species predominantly responsible for global malaria morbidity and mortality. It can be routinely maintained in continuous in vitro cultures, which has significantly aided research aimed at revealing the cell biological properties of the organism, as well as efforts to discover novel therapeutics against it. Drugs against infectious diseases (including malaria) are small chemical compounds that typically act by penetrating the pathogen responsible for the disease, binding to a specific pathogen protein (the drug target) and inhibiting its function. This disrupts vital metabolic or cell biological pathways in the pathogen, ultimately leading to cell death. The search for novel drugs includes the identification and validation of novel protein targets that the drugs can be directed against. Our interest is in exploring the suitability of ADP-ribosylation factor (ARF) GTPases as malaria drug targets. This involves the development of novel in vitro protein interaction assays that are used to screen compound collections for ARF inhibitors and assessing the effects of the inhibitors on malaria parasites using biochemical and cell biological approaches.
Implementing phenotypic bioassays for drug screening
Driven by the menace of drug resistance, poor efficacy, cost and side-effects there is a persistent need to discover novel synthetic and natural compounds for infectious diseases drug development programmes. Numerous South African academic research groups are engaged in this pursuit, and Rhodes University is no exception. A common bottleneck in these projects is rapid, reliable access to bioassays for testing compounds produced by synthetic and natural product chemists. We have established a bioassay facility to implement and routinely perform a selection of assays to support drug discovery projects in the departments of Chemistry, Biochemistry & Microbiology and Pharmacy. Routine assays performed are phenotypic (testing compounds against cultured cells) and are focused on malaria parasite (Plasmodium falciparum) blood stages, African sleeping sickness parasites (Trypanosoma brucei) and mammalian cells (cytotoxicity).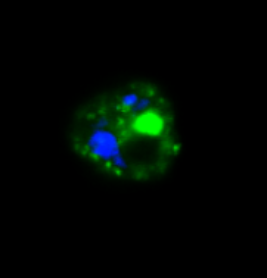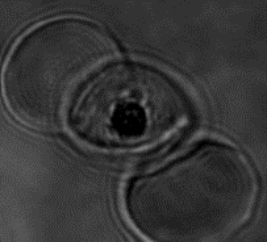 Malaria parasite expressing ARF-GFP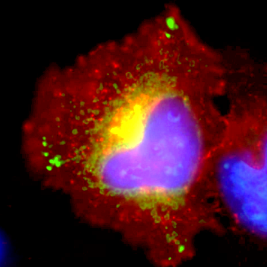 HeLa cell expressing malaria ARF fused to GFP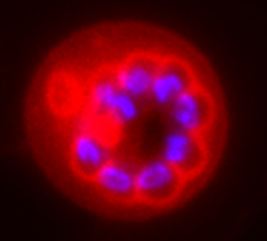 Dividing malaria parasite stained with trypan blue
Bioassay facility
Lab group (2020)
Dustin Laming (Postdoctoral fellow)
Tarryn Swart (PhD)
Apelele Ntlantsana (MSc)
Khanyisile Ngcongco (MSc)
Alexander Woolf (MSc)
Skye du Toit (MSc)
Publications (2019 - 20)
h-index 21 (ISI Web of Science)
Swart T, F Khan, A Ntlantsana, D Laming, CGL Veale, JM Przybroski, AL Edkins & HC Hoppe. Detection of the in vitro modulation of Plasmodium falciparum Arf1 by Sec7 and ArfGAP domains using a colorimetric plate-based assay. 2020. Scientific Reports (accepted)
Olawode EO, R Tandlich, E Prinsloo, M Isaacs, H Hoppe, R Seldon, DF Warner, V Steenkamp & PT Kaye. 2019. Synthesis and Biological Evaluation of 2-Chloro-3-[(thiazol-2-yl)amino]-1,4-naphthoquinones. Bioorg Med Chem Lett 29:1572-75
Okaiyeto K, M Ojemaye, H Hoppe, L Mabinya & A Okoh. 2019. Phytofabrication of silver nanoparticles using aqueous extract of Oedera genistifolia leaf: characterization and antibacterial potential. Molecules 24:4382
Mbaba M, LMK Dingle, D Cash, J-A de la Mare, HC Hoppe, AL Edkins, D Laming, D Taylor & SD Khanye. 2019. Repurposing of a polymer precursor: synthesis and in vitro medicinal potential of ferrocenyl 1,3-benzoxazine derivatives. Eur J Med Chem (accepted)
Veale CGL, J Jayram, S Naidoo, D Laming, T Swart, T Olivier, MP Ackerman, KA de Villiers, HC Hoppe & V Jeena. Insights into structural and physiochemical properties requires for β-hematin inhibition from structure activity relationship investigation of triarylimidazoles. MedChemComm (accepted)
Veale CGL, D Lamming, T Swart, K Chibale & H Hoppe. 2019. Exploring the anti-plasmodial 2-aminopyridines as potential anti-trypanosomal agents. ChemMedChem 14 (accepted) 10.1002/cmdc.201900492
Teinkela JEM, XS Noundou, S Fannang, AM Song, JCA Nguedia, HC Hoppe & RWM Krause. 2019. Terminaliamide, a new ceramide and other phytoconstituents from the roots of Terminalia mantaly Perrier and their biological activities. Natural Products Research DOI: 10.1080/14786419.2019.1647425
Mathebula B, KR Butsi, RL van Zyl, NCJ van Vuuren, HC Hoppe, JP Michael, CB de Koning & AL Rousseau. 2019. Preparation and antiplasmodial activity of 3',4'-dihydro-1'H-spiro(indoline-3,2'-quinolin)-2-ones. Chem Biol Drug Design 94: 1849-1858.
Beteck RM, LJ Legoabe, M Isaacs, SD Khanye, D Laming & HC Hoppe. 2019. Anti-Trypanosomal and Antimalarial Properties of Tetralone Derivatives and Structurally Related Benzocycloalkanones. Medicina-Lithuania 55:206 DOI: 3390/medicina55050206
Adeyemi CM, HC Hoppe, M Isaacs, R Klein, KA Lobb & PT Kaye. 2019. Synthesis of N-substituted phosphoramidic acid esters as "reverse" fosmidomycin analogues. Tetrahedron 75:2371-2378
Siwe-Noundou X, TM Musyoka, V Moses, DT Ndinteh, D Mnkandhla, H Hoppe, O Tastan Bishop & RWM Krause. 2019. Anti-HIV-1 integrase potency of methylgallate isolated from Alchornea cordifolia: in vitro and in silico Scientific Reports 9:4718
Beteck RM, R Seldon, A Jordaan, DF Warner, HC Hoppe, D Laming & SD Khanye. 2019. New quinolone-based thiosemicarbazones active against Plasmodium falciparum and Mycobacterium tuberculosis. Molecules 24:1740
Betek RM, LJ Legoabe, M Isaacs & HC Hoppe. In vitro anti-trypanosomal activities of indanone-based chalcones. Drug Research 69:337-341.
Beteck RM, A Jordaan , R Seldon , DF Warner, HC Hoppe, D Laming , LJ Legoabe & SD Khanye. 2019. Quinolone-isoniazid hybrids: Synthesis and preliminary in vitro cytotoxicity and anti-tuberculosis evaluation. Med Chem Comm 10:326-331
Fouokeng Y, HM Feumo Feusso, JE Mbosso Teinkela, X Siwe Noundou, R. Wintjens, M Isaacs, HC Hoppe, RWM Krause, AGB Azebaza, JC Vardamides. 2019. In vitro antimalarial, antitrypanosomal and HIV-1 integrase inhibitory activities of two Cameroonian medicinal plants: Antrocaryon klaineanum (Anacardiaceae) and Diospyros conocarpa (Ebenaceae). SA Journal of Botany 122:510-517
Jesumoroti O, D Mnkadhla, F Faridoon, M Isaacs, H Hoppe, R Klein. 2019. Evaluation of Novel N'-(3-Hydroxybenzoyl)-2-oxo-2H-chromene-3-carbohydrazide Derivatives as Potential HIV-1 Integrase Inhibitors. Med Chem Commun 10:80-88
Kimuda MP, D Laming, HC Hoppe & O Tastan Bishop. 2019. Identification of novel inhibitors of pteridine reductase 1 in Trypanosoma brucei via computational structure-based approaches and in vitro inhibition assays. Molecules 24:142
Mbaba M, J de la Mare, JN Sterrenberg, AL Edkins, M Isaacs, HC Hoppe & SD Khanye. 2019. Novobiocin-ferrocene conjugates possessing anticancer and antiplasmodial activity independent of HSP90 inhibition. J Biol Inorg Chem. 24:139-149
Tlhapi DB, IDI Ramaite, T van Ree, CP Anokwuru, TS Orazio & HC Hoppe. 2019. Isolation, chemical profile and antimalarial activities of bioactive compounds from Rauvolfia caffra Molecules 24: 39
Afieroho OE, X Siwe-Noundou, CP Onyia, OH Festus, EC Chukwu, OM Adedokun, M Isaacs, HC Hoppe, RWM Krause & KA Abo. 2019. Antiplasmodial activity of the n-hexane extract from Pleurotus ostreatus (Jacq. ex. Fr.) P. Kumm. Turk J Pharm Sci 16: 37-42
Chizema M, TF Mabasa, HC Hoppe & HH Kinfe. 2019. Design, synthesis and antiplasmodial evaluation of a series of novel sulfoximine analogues of carbohydrate-based thiochromans. Chem Biol Drug Des 93: 254-261.e
Last Modified: Tue, 28 Jan 2020 09:21:46 SAST