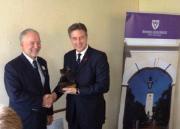 Steuart Pennington has worked tirelessly over the past 10 years to bring positive change to South Africa. As the Chairman of Executive Office of South Africa – The Good News (Pty) Ltd and Africa – the Good News his contribution to global and local perspectives has been significantly positive. His work has in many ways changed the South African narrative worldwide. His personal mantra: "We don't describe the future we see, we see the future we describe" speaks volumes about his approach.
In 2007 he was awarded the Public Service Entrepreneur of the Year Award by the African Heritage Society in recognition of the extraordinary contribution that his company and publications have made to our social fabric, in particular the perspective that important decision makers have relative to South Africa's future. The award also recognised Pennington's work in the area of employee volunteering, education and public mobilisation around crime and his contributions to South Africa's healing process.
In 2008 he became one of the 10 finalists in the Johnnie Walker "Striding Man Award" for South Africa's most Inspirational Entrepreneurs, in recognition for the work he has done in inspiring the nation to believe in its own future.
Pennington first enrolled at Rhodes in 1971 and graduated in 1974 with a Bachelor of Arts (Honours). He also holds a PDM from Wits Business School and a certificate in Management from Oxford. The Good News chapter in his career began in 2002 when he became increasingly concerned about the extent to which South Africans understood the truth of their own country. He boldy gave up a successful career in industrial relations and strategic consulting to write a book on progress in South Africa since 1994.
Told by publishers that the book would not sell he decided to raise the money himself and self-published SOUTH AFRICA – The Good News. The initial print run of 10,000 copies was sold out in 12 weeks. Several other books followed, and with each Pennington has not only grown his own following but a positive perception about the miracles of our nation and the promise of our future. Africa – The Good News (2008), has been hailed as the first publication of its kind to trump the pervasive Afro-pessimism found in African literature.
Over the past 10 years Pennington has delivered about 450 public talks in South Africa and abroad, also taking his message to disadvantaged schools in townships and rural areas. His website Twitter and Facebook accounts have a strong following locally and internationally. He also speaks on a weekly basis on SAfm to some 800 000 listeners and he is a regular correspondent with Business Day and other major newspapers. He has researched and written articles on South Africa's global competitiveness, some of which was used in the submission by Business Unity South Africa to the National Planning Commission.
He also places emphasis on making South African schools safe, healthy and happy as places of learning. He founded TogetherSchools, a Section 21 company that specialises in school evaluation. Working with government, corporates and NGOs the programme has already been successfully piloted in 150 schools. His other passion is to build a safer society and he is a founding member of the Foundation for a Safe South Africa. Finally, he has in his private capacity adopted a crèche of 150 destitute and vulnerable children with the objective of improving their nutrition, clothing and childcare.
In continued service to Rhodes, Penninton has twice addressed the Grahamstown Festival, once at the invitation of the Rhodes Business School, and he has been nominated as a speaker at TEDxRhodesU. He has also been a regular donor over the last few years and has donated books to the alumni bookcase. He also edited and published Knocking on Heavens' Door – a beautifully illustrated and narrated picture book that resulted from a spontaneous Rhodes Alumni gathering of some 150 early 70's Rhodians at Port Alfred in 2010.