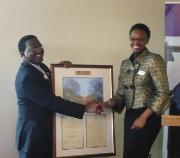 Ayanda Mbanga was appointed Deputy CEO of Saatchi and Saatchi South Africa in 2011 and is responsible for driving new business development, talent management and group client relations. Mbanga is the founder of recruitment advertising company Ayanda Mbanga Communications, a company that is currently rated second out of some 35 recruitment advertising companies in South Africa and now forms part of the Saatchi and Saatchi group.

Mbanga first enrolled at Rhodes to study a Bachelor of Journalism (Honours) in 1990 and has attributed all of her subsequent successes to her Rhodes education. She qualified as a journalism graduate with Honours in 1993 and was recruited during her final year by Saatchi and Saatchi Recruitment Advertising, joining them as a copywriter in 1994. Demonstrating a raw talent and a professional commitment to her trade she furthered her studies with a AAA diploma in copywriting and a Unisa certificate in marketing and research and two years after joining them she was appointed as the Director of Saatchi and Saatchi.
In 1998 she broke away to start her own company with support from Saatchi and Saatchi and just four employees. Under her able direction, the young company soon established a reputation as the fastest-growing recruitment advertising brand in South Africa. A fully BEE company, it provides clients with comprehensive recruitment services.
With current annual billings in excess of R100 million, the company has offices in four provinces – Gauteng, Western Cape, KwaZulu-Natal and the Eastern Cape and employs over 50 staff members. Their offerings include recruitment advertising, response management, e-Recruitment and employer brand development. Associated services such as permanent appointments, search and selection are available too. They have also secured some of the most successful private and public South African institutions as clients, including the University of Cape Town, national government and a wide range of corporate clients.
Off the back of this phenomenal growth, Mbanga's company was awarded the Avusa Media Recruitment Advertising Agency of the Year award in 2011 and 2012 and the award for the Most Creative Advertisement in the Private Sector for 2011 and 2012.
She also received the Black Business Executive Kaelo Award for 2012 in recognition of this appointment. Other recent accolades recognising her leadership include being among the top three finalists for Nedbank Business Woman of the Year (2008), and a nominee for SA's Most Influential Women in Business and Government (2009).
Social responsibility is an important pillar of Ayanda Mbanga Communications and through her company Mbanga is a committed supporter of community projects such as the Mount Zion ex-offenders Rehabilitation Centre in Hillbrow, Orange Farm Community Library Donation project, Legal Resource Centre, Lesbian and Gay Equality Project, and the Cancer Association of South Africa. She also offers professional consulting services to a number of section 21 not-for-profit organisations at highly discounted consulting rates.
Mbanga also sits on the boards of many civil and corporate organisations, among them Saatchi and Saatchi, Pinpoint One and Heifer International. Privately she is also a running enthusiast, but commits her passion for the sport to charity organisations and has completed the New York City Marathon in aid of the African Leadership Academy and has run others for the Cancer Association of South Africa.
She continues to serve her alma mater by facilitating a number of Rhodes graduates' placements in her company's graduate placement programme and at Saatchi and Saatchi, offering tomorrow's leaders the type of boost that helped launch her own career.