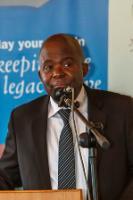 It was Rich Mkhondo's love of writing that brought him to Rhodes to study Journalism and African Politics. He was the founder of the Black Students Movement and one of the first black journalism graduates (1983).
Rich is a marketing communications, reputation management practitioner and strategist of international repute.
He recently founded The Media and Writers Firm, a content development agency and reputation management consultancy, helping companies and organisations with a variety of their communication needs.
Until early 2014 he headed MTN Group's Corporate Affairs department. He joined MTN from the 2010 FIFA World Cup Organising Committee South Africa where he was the Chief Communications Officer in the run up to and during the first FIFA World Cup held on African soil. Rich led and directed the strategic vision of the committee's Communication and Media Operations departments. His communications work during the World Cup 2010 was exceptional, showcasing South Africa's readiness to host the Cup and ensuring that South Africa received the credit it deserved.
Previously he was the Managing Director of Ogilvy Public Relations Worldwide/South Africa, Deputy General Manager for marketing services at Discovery and Executive Manager for Corporate Communications at South African Airways. He also worked as a reporter for the now defunct Rand Daily Mail and The Star, before joining Reuters News Agency as a correspondent. He spent time in Washington DC as a correspondent covering North America for the Independent Newspaper Group.
While at SAA, Rich was instrumental in securing R3 million sponsorship for Highway Africa and opened doors to other projects with SAA, particularly in seeking support for the Africa Media Matrix building and student scholarships. He was selected as the JMS alumnus of the year for his continual loyal support and involvement in the School.
A reflective and thoughtful professional, Rich has no doubts about the value of a Rhodes education. Over the past fifteen years he has generously given his time to mentor and advise students.
Rich Mkhondo is an inspirational individual who has used his degree from Rhodes to advance his career and to become a legend in his field. He is an excellent role model and community leader who has made a significant difference to this country. He is a very worthy recipient of the Distinguished Old Rhodian Award.

Rich Mkhondo
30 August 2014