The Reverend Doctor Simon Gqubule is a well-respected and influential figure in his community, church and academic circles and at the age of 87 still plays a significant role in education. He is awarded the Distinguished Old Rhodian Award for his dedication and contribution to teaching and learning. Rev. Dr Gqubule was the first black student to receive a doctorate degree from Rhodes University in 1978 and his commitment to educating previously disadvantaged scholars has won him numerous awards. Rev. Dr Gqubule knows the challenges financially disadvantaged students face; his father earned two pounds and five shillings a month and this was not enough to put him through university and also support their family. It was through his Chaplain arranging a bursary for him that he went to teaching college and Rev. Dr. Gqubule has committed his life to being the 'chaplain' for many other students, thus improving many lives.
Having become a teacher at 22 Rev. Dr Gqubule has dedicated his life and energy into trying to educate the leaders of tomorrow. The betterment of a child's future is enough to keep Rev. Dr Gqubule motivated and energetic about the work he is doing. He is rightly proud of Ilitha Lemfundo Educational Enhancement Centre, a private initiative that offers Saturday classes to grade 10, 11 and 12 pupils in Uitenhage. The centre was born out of concern about the high matric failure rate. In the past two years (2013 – 2014) the centre has achieved a 100% pass rate.
He started his teaching career in 1950 in Grahamstown, but being equally interested in the church, he soon entered the Methodist ministry. He attended the then University College of Fort Hare, where he added Greek to his Latin, and from there he graduated with a Rhodes degree in 1957. This preceded his chaplaincy at the Indaleni Institution, further study in Geneva, Birmingham and Edinburgh, and the degrees of BD from London and MTh from Edinburgh in 1971. In 1960 he taught at Lovedale United Theological School in Alice where he remained for almost thirty years. He taught Systematic Theology, New Testament Studies, and New Testament Greek. In 1978 he received his PhD from Rhodes University. In 1980 he was Visiting Professor of New Testament at the Toronto University School of Theology, in Canada. In 1990, he was Visiting Lecturer in Greek and New Testament at Wesley College, Bristol, England.
As early as 1972 he was voicing that South Africa should open up universities to students from all over Africa, for the purpose of liberating not only blacks but whites as well. Through his affiliation with the South African Council of Churches and the Methodist Church of Southern Africa he helped fight the apartheid government. During his presidency of the United Democratic Front, he was placed under house arrest for two years, between 1988 and 1990. Through his educational enhancement centre, he is committed to seeing young South Africans prosper. Rev. Dr Gqubule embodies the values Rhodes hopes to instil in its graduates: humility, diligence, a passion for learning and a deep personal commitment to bettering our society and for this he was honoured by Rhodes University with an Honorary Doctorate.
For his continued service, his dedication and passion for education and Rhodes, Rev. Dr Gqubule is a truly deserving recipient of the Distinguished Old Rhodian Award.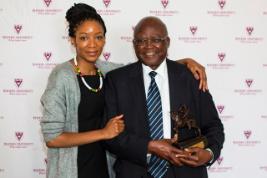 Baba-Tamana Gqubule and Rev Dr Gqubule