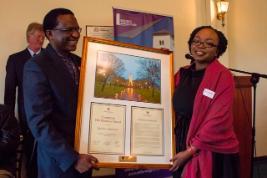 Sikelelwa Mgabadeli, nicknamed Siki, graduated with a BJourn from Rhodes University in 2000. Siki is an award-winning financial journalist who keeps South Africans abreast with the latest financial statistics, indicators and money saving tips.
She has worked for various broadcasters in South Africa as a reporter, producer, anchor and editor. Her well-rounded grasp of business and politics has seen her anchor various current affairs television programmes, most notably, the acclaimed 'The Big Debate'. Siki is one of the leading financial media personalities in South Africa. She is a highly sought after moderator and facilitator and has covered major African markets.
Siki's radio experience began in 2004, when she started standing in for Michael Coulson on SAFM's Market Update. This programme targets South Africa's captains of industry, investors and those who have an interest in the world of finance. In April of 2006 she took over as the main anchor. She also hosted SAFM's Saturday morning current affairs programme and Weekend AM live, looking at each week's main stories.
In 2006 she was awarded the Sanlam Financial Journalist of the Year Award – TV News Category. She is a sought after MC, having hosted government, business and award functions in South Africa including Ernst and Young Entrepreneur Award of the Year, Discovery Health Awards, Department of Trade and Industry's Technology Women in Business Awards, BankeSETA Conference and Cisco's Networker's Live Conference.
She is also known for anchoring the e.tv breakfast current affairs show, Morning Edition. She was until 2009, senior business news anchor at CNBC Africa. In this role she covered major African markets and participated at the World Economic Forum on Africa, the IBSA Editor's Conference in India and the African Green Revolution Conference in Oslo, Norway. Previously she was Executive Producer of Economics Desk at the SABC.
She is up-to-date with economic trends and politics and demands accountability from leaders while giving voice to ordinary residents and communities. As an eNCA anchor and presenter on Moneyline as well as anchoring on SAFM and presenting Moneyweb, Siki keeps South Africans informed about money matters which is vitally important in a country in which recent findings reported that only 20% of South Africans have any formal savings.
Siki has featured in the M&G SA Book of Women and the M&G Young South Africans Publications.
For exceptional economic journalism skills in keeping the public informed Siki is awarded the Emerging Old Rhodian Award.