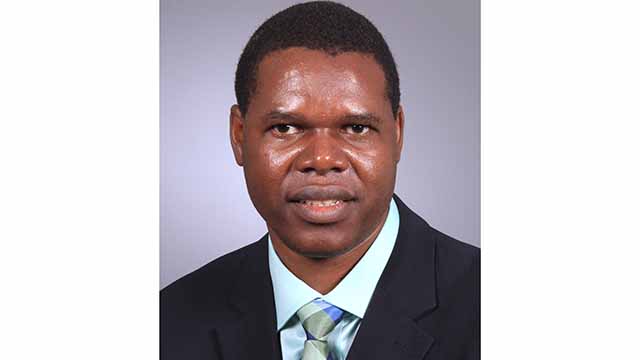 Distinguished Old Rhodian Award:
Professor Godwell Nhamo, (a C3 Rated NRF researcher), has dedicated his life since his first enrolment at Rhodes in 2003 to opening up critical research areas in the fields of climate policy, green economy and sustainable development.
He has published widely in this space including six (6) books (one co-authored and five edited published from 2011-2016). He has also graduated nine (9) PhDs between 2013 and 2016 and mentored 10 postdoctoral fellows. Prof Nhamo has published many journal articles now numbering 60 since his enrolment as a PhD student at Rhodes in 2003.
Prof Nhamo further inaugurated an international conference on 'Innovation for Sustainability under Climate Change and the Green Economy' in May 2015. From this conference, which was attended by over 400 participants, four (4) accredited special journal issues have been published to which he has been the Guest Editor.
Given that Prof Nhamo only obtained his PhD in 2005, these achievements are of an outstanding nature and represent Rhodes well in both the academic and service to community spheres of influence. For his outstanding achievements, Prof Nhamo has received numerous recognitions at international, national and local levels.
Among the recognitions are: Appointment as IPCC Expert for the Scoping of the Special Report on the Impacts of global warming of 1.5°C above pre-industrial levels and related global greenhouse gas emission pathways in 2016, three years appointment as one of the five (5) members of the Global Reporting Initiative's (GRI) Due Process Oversight Committee (DPOC), University of South Africa's (Unisa) Chairperson of Council Award of Excellence in Overall Job Performance and Community Service, and Unisa Vice Chancellor Award of Research Excellence (both in 2016), 2015/6 finalist in the prestigious South Africa National Science and Technology Forum (NSTF) GreenMatter Category for outstanding contributions in biodiversity conservation, sustainability and green economy, and in 2017, a Semi-Finalist in the CEO Global Titans Awards.
Prof Nhamo is a Chief Researcher and Exxaro Chair in Business and Climate Change hosted by the Institute for Corporate Citizenship at the University of South Africa. He holds a BSc (Hons) from the University of Zimbabwe, an MSc degree in environmental science from the University of Botswana, a PhD from Rhodes University and did his Postdoctoral Fellowship with University of the Witwatersrand. In his employment journey, Prof Nhamo has worked for the University of Limpopo's Turfloop Graduate School of Leadership and the Council for Scientific and Industrial Research (CSIR).
Prof Nhamo is the perfect example of a committed Old Rhodian who has left his mark on every institution with which he has been associated. He has played an important role as an ambassador for his alma mater and for the country.