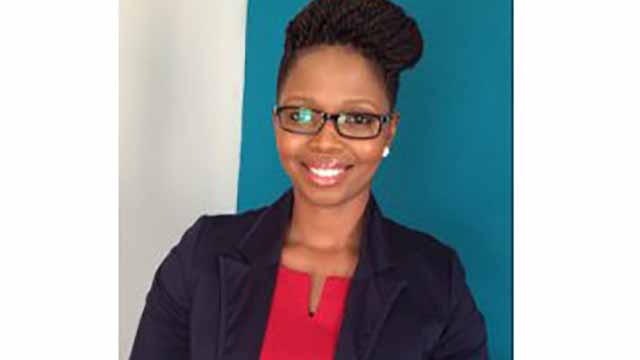 Emerging Old Rhodian Award:
Dr Prudence Ogunlade is an Executive Manager in the Office of the Chief Operations Officer at Transnet Freight Rail. She holdsa PhD in Chemistry from Rhodes University obtained in 2007, has studied Programme in Business Management at Unisa and is currently busy with her studies towards a MBA degree.
Dr Ogunlade joined Sasol as a Senior Scientist where she was involved in addressing business requests for fuel derivatives and provided technical expertise as well as project management in the design and execution of high impact Research and Development projects. Her contributions resulted in cost-savings, especially for a high impact project where she provided recommendations to re-route crude products, which were critical in the stabilisation of the country's Fuel Value Chain.
Dr Ogunlade has also worked for the Industrial Development Corporation (IDC) conducting basic assessments of application for IDC's finance and prepared budgets and conducted due diligence on the merit of the applications in accordance. She was also responsible for compiling reports for presentation to Exco for investment decisions.
She went on to work as an Associate at Fevertree Consulting in 2012 where she was involved in the formulation and development of multiple strategies in various client projects. This entailed her having to work with multiple clients in the Transport (rail) sector and was instrumental in formulating a detailed Localisation Strategy, which led to a favourable positioning of a client for a mega-infrastructure bid.
She was attracted to join Transnet in 2014 and held a position as a Senior Manager Strategy and Long-term Planning. She was a custodian of developing strategic plans for Magnetic Systems, Chrome Systems as well as Durban-Gauteng Rails Corridor.
Her work involved planning and developing integrated capacity creation strategies aligned to the business strategy, in accordance to the state owned entity's Market Demand Strategy. She translated these capacity creation strategies into initiatives with short, medium and long-term focus for expansion of infrastructure, and monitored progress on the implemented initiatives.
In 2016, Dr Ogunlade was promoted to the Executive Manager position. Various works are envisaged for her appointment at executive level and within a year and few months of being promoted, she has initiated the 'I am Accountable' campaign, which instils accountability in the workplace, with the intent of creating a high performance culture. She is deeply passionate about employee engagements and uses every opportunity presented to her to motivate, mentor and coach.
Dr Prudence Ogunlade is a true professional and role model, who embodies all the qualities that make her an outstanding person, richly deserving of the Emerging Old Rhodian Award.