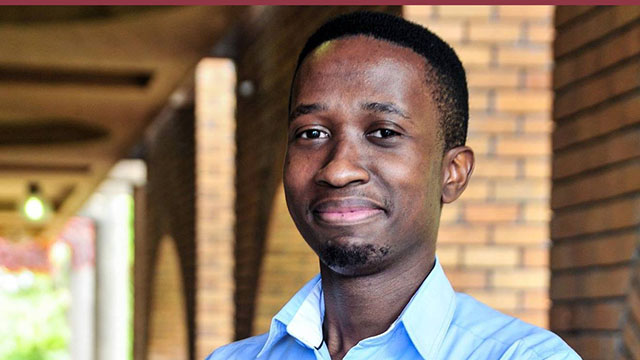 Mr Mfubu is an attorney and lecturer at the University of Cape Town's Refugee Rights Unit, which provides legal assistance to refugees and asylum seekers in Cape Town.
Upon completion of his BCom and LLB degree at Rhodes University in 2011, Mr Mfubu applied for and later completed his articles at UCT. He was admitted as an Attorney of the High Court of South Africa in 2014 and obtained his rights of appearance in the Western Cape High Court in 2017.
Mr Mfubu feels his time at Rhodes University largely defined him, as it provided an environment that was conducive to his growth into a confident and inquiring lawyer. It was at Rhodes University that he discovered his passion for protecting and assisting vulnerable members of our society and where he developed his sense of social justice.
His undergraduate degree led him to become a Legal Researcher and Paralegal at the Equal Education Law Centre where he advised children and their parents about their right to education. He travelled to rural schools in the Eastern Cape and schools as far as KwaZulu-Natal to render legal assistance to those most in need.
After completing his articles at UCT in 2014, Mr Mfubu was intrigued by the manner in which funding is allocated to various social justice NGOs and with a belief that involvement in these funding models and decisions would make a major impact on the work of these organisations, he joined the non-profit Open Society Foundations for South Africa (OSF-SA). Here, he grew to understand funding models, the non-profit environment and various cultures as he travelled around the world. Through OSF, he grew to understand regional and global perspectives on funding of social justice initiatives.
After having acquired knowledge in various sectors, his work at the Refugee Rights Unit proved to be the most meaningful and rewarding type of work so, in 2016, he re-joined the Unit as a Senior Attorney. Through exposing himself to every aspect of refugee, civil and criminal law he has become an invaluable asset for any organisation.
At UCT, he not only consults with clients every day, but also grooms and mentors candidate attorneys, interns and law students who work at the clinic. His clients are vulnerable members of society for who he provides pro bono legal assistance and he also advises indigent members of the public on a wide variety of matters.
His teaching includes a course at the University of Cape Town on Strategic Impact Litigation, which is aimed at enabling fourth-year LLB students to better understand impact litigation and strategies in South Africa.
In 2016, Mr Mfubu co-authored three different publications and was requested by the University of Bristol to present on his papers at a prestigious gathering of refugee practitioners from around the world. His research and approach to the interpretation of local and international law has garnered much praise and recognition. His work has made a valuable contribution to the discussions around forced migration.
He is currently completing his Master in Law, specialising in Criminology at UCT.
Since Mr Mfubu perfectly embodies the three pillars of Rhodes University, namely teaching and learning, research and community engagement, he is without question a very deserving recipient of the Distinguished Alumni Award.