Past VC's Distinguished Award Recipient
2013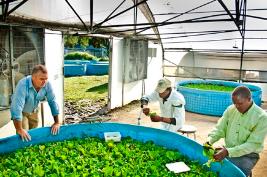 Martin Hill and the Biological Control Research Group (Drs Julie Coetzee, Jaclyn Hill and Grant Martin)
The Biological Control Research Group (BCRG) in the Department of Zoology and Entomology focuses on understanding the ecology, biology and management of invasive aquatic weeds. Invasive aquatic weeds, both floating and submerged, continue to pose a threat to the integrity of South African aquatic ecosystems and the quantity and quality of potable water, costing the government millions of Rands to control each year. Their research comprises the development of biological control methods for these invasive plants, which can then be implemented by various stakeholders, from governmental organisations, local communities to private landowners. Their expertise has been called upon to assist in the control of these weeds beyond our borders, throughout Africa, and into Europe, the USA, and as far away as Australia and New Zealand. But the BCRG also believe that their research should go beyond the lab bench and should be implemented through open communication and the transfer of appropriate technology. They maintain that that biological control, and the science behind it, has the ability to empower local communities to manage their own natural resources. The BCRG runs a fully accredited Weed Biological Control Short Course through Rhodes University which teaches community members the basic tenets of invasive weed ecology and biological control. Further, the BCRG runs the Disabled People's Weed Biological Control Short Course in partnership with Grahamstown Area Distress Relief Association (GADRA) with the ultimate goal of providing trained individuals with job opportunities within the greater Grahamstown community, as well as South Africa.
Their mass-rearing programs, in which biological control agents are cultivated for study and distribution, have been run in partnership with Working for Water (WfW) initiative, SAEON Elwandle Node, GADRA, and local Grahamstown schools. The mass rearing programs have employed people with disabilities (PWD) from the Grahamstown local community to assist in the general maintenance of the mass-rearing the facility, as well as the collection of insects for release. Further, a mass rearing programme has been initiated at Ntsika Secondary School, where biological control agents for water hyacinth, South Africa's worst aquatic weed, and agents for various cactus species, will be mass reared for release around the country.
Additionally, the research group has expanded their project beyond the science of biological control, working hard to demystify the science, and demonstrate that, by using the appropriate techniques, the layman is also able to play an active role in the production and distribution of biocontrol agents, ultimately enabling anyone to take responsibility for the control of invasive alien weeds in South Africa. Their Biology Internship programme run in collaboration with Victoria Girls High School, Graeme College and Ntsika Secondary School encourages environmental stewardship in our local community, improving the quality of young science graduates and initiate a positive and productive relationship between a tertiary institution and grade school learners. Building on the success of the Biology Internship Programme, further collaboration with VGHS has led to a small lecture series during which researchers from the Dept. of Zoology & Entomology, Rhodes University and the South African Institute for Aquatic Biodiversity (SAIAB) present overviews of their current work to high school students during science class.
2012
Alex Sutherland
The award recognizes a sustained history of community engagement initiatives which Alex Sutherland has been instrumental in conceptualizing, activating and sustaining over the past eleven years. On her arrival at Rhodes in 2001, Alex immediately focused her teaching and research energy on aspects of theatre currently described under the heading Applied Theatre. Since that year, as part of the Applied Theatre curriculum, second and third years, Honours, and Masters students have implemented a diverse range of practical research projects in local schools and communities. This has resulted in the Drama Departments sustained presence in over 12 Schools and Organisations in the Grahamstown community, under her leadership.
She has been active in extending the courses beyond 'traditional' drama teaching contexts, to include community contexts such as adult and women's groups, prisoners, young people with special needs etc. She deliberately aims to support students out of their comfort zones in order that they might engage with communities very different from their own.
The Projects Ms Sutherland has been involved in include the Art of the Street Project, a developmental theatre project with youth at risk, with a special focus on street children. The work resulted in 5 theatre pieces being commissioned and performed at the National Arts Festival. It was then developed as part of an international exchange project between the UK youth theatre groups and youth theater groups world-wide, resulting in a UK tour of the play. Subsequently the project has incorporated post-graduate students.
Ms Sutherland has developed the use of life skills education in prisons with young offenders for the Presidents Award Youth Empowerment Programme. This interaction has flowed into an extraordinary project called the Fort England Hospital Theatre Project (FEHTP), a collaborative venture between Fort England Hospital and the Rhodes Drama Department. The FEHTP forms part of the clinical and rehabilitative programme at the institution and has been running in the Maximum Security Unit (MSU), the only centre in South Africa which houses male, forensic psychiatric patients requiring maximum security, due to their respective profiles.
Mrs Sutherland's use of service learning as a methodology in the teaching and learning and research programmes of the courses in Applied Theatre has led to the establishment of the Masters in Applied Theatre. This programme aims to provide students with diverse experiences of using theatre as a means of social and personal change in relation to different audiences, participants social and cultural contexts, and theatre processes.
Head of Department, Andrew Buckland writes that 'the history and sustainability of the work carried out by Ms ‌land provides the department and the university with extraordinary kudos. Her academic rigour, her vibrant creative energy and her capacity for dogged hard work make her a highly respected academic and practitioner in the country and we are privileged to have her practicing her craft in this community and under the auspices of this department and university'.
We wish to congratulate and thank the other nominees for submitting their projects/initiatives for consideration and commend them on their excellent community engagement activities. Rhodes University is proud and privileged to have academic and support staff members with an elevated sense of social responsibility and a deep desire to make a difference in our community.
The Award will be made at the 2013 Graduation Ceremony and Ms Sutherland will be invited to give a public lecture on his work later in the year.
2011
PROF ALFREDO TERZOLI
Prof Terzoli is a Professor in the Computer Science Department, a THRIP Grant holder, and head of the Telkom Centre of Excellence (CoE) at Rhodes University. Over and above his general academic responsibilities Prof Terzoli has played an instrumental role in no less than three projects aimed at social transformation, community engagement, and mutually respectful and beneficial relationships. He has been a part of creating the e-Yethu Schools Project, Siyakhula Living Lab, as well as Capacity Building with the University of Namibia (UNAM). None of these projects would have achieved the level of success they have without the dedication, and insightful impute of Professor Terzoli
As Information Communication Technologies (ICT) becomes more prevalent in today's society, computer literacy is becoming as important as literacy in language and numeracy. Knowing the importance and possibilities of ICT, Prof Terzoli initiated, and leads the Siyakhula Living Lab (SLL) project in Mbashe municipality high schools. This project works with schools situated along the wild coast of the Eastern Cape and aims to support ecological, heritage and cultural tourism by collaborating with Higher Education Institutions (HEIs), industry, government and community members in order to provide communication technologies in rural areas. Siyakhula Living Lab was established in 2005, as a joint collaboration between the University of Fort Hare (UFH) and Rhodes University (RU), and is run within the Telkom CoEs in the Computer Science departments of both universities.
Within this project Prof Terzoli also supervisors Masters and PHD candidates who are researching ICT for development, ICT within development and economic change, and the use of ICT and language; thus merging the virtues of community engagement with the core pillars of Higher Education Institutions: research, teaching and learning.
In the words of the school principal of M. Mxathule, Alfredo Terzoli deserved to be recognised through this award because "He worked fearlessly to see that everybody in our remote rural area is able to operate computers and has access to the internet. He deserves to be awarded because he is so close to the community"
In 2005 Prof Terzoli also initiated, leads and directs, the e-Yethu Schools project which currently provides internet connectivity and technical support to eight schools in Grahamstown. This project is an effort to co-ordinate ICT for development activities by staff and students in the Education and Computer Science departments at Rhodes University. The e-Yethu project aims to aid schools in sourcing computer and ICT equipment, support teachers and learners by providing a transfer of skills within ICT, facilitate collaboration and communication among Grahamstown schools, as well as provide ICT literacy and training for teachers and learners. This project has been so successful that four more schools will be added to the network this year.
2010
MANDLA GAGAYI
In 2007 Mandla Gagayi established the Grahahamstown High Schools Soccer League with the following schools participating in the league: Mary Waters, Nathaniel Nyaluza, TEM Mrwetyana, Nombulelo, Khutliso Daniels, Benjamin Mahlasela, and Ntsika.
After recognizing the impact that the league had in schools and in the community, in 2008 the Department of Education and the Department of Sport, Recreation, Arts and Culture began to support the programme. Both departments donated equipment to participating schools as well as prizes for winners of the league. The Department of Sport, Recreation, Arts and Culture, through its Mass Participation Programme, went further by also providing volunteers to the programme to help out as referees. The League has grown to the point where educators and learners have taken ownership of this programme and Mandla's role has now become mainly advisory. As a spin-off from the programme, Nombulelo Secondary learner Lelethu Makile was offered a contract with the Wits Football Club under19 team for 2012.
With his goals achieved with high schools, Mandla turned his attention to the primary schools, motivated by the belief that for the high schools league to be successful there must be a strong feeder base through primary schools. In 2009 the Grahamstown Primary Schools League was established. This league was also run in conjunction with the Department of Education and the Department of Sport, Recreation, Arts and Culture.
In 2010 Mandla added Netball to his endeavours with the inception of the High schools under 17 and under 19 leagues. Once again the establishment of an independent committee was facilitated by Mandla, this time with the involvement of community members when only one teacher showed interest. The programme was selected four teams from Grahamstown high schools. Four players from these teams went on to make the Rhodes Netball First Team - a testimony to its reciprocal benefit. Rhodes student netball players prize the opportunity that this programme has afforded them to get first-hand involvement in a sustained community engagement programme.
2009
DR KENNETH MLUNGISI NGCOZA
A Born and bred Grahamstonian, Ken Ngcoza attended Nathaniel Nyaluza High School and went on to earn a PhD in Science Education from Rhodes. In addition to lecturing in Science at Rhodes, Ngcoza co-ordinates programmes for science teachers, in collaboration with Mrs Joyce Sewry from the Chemistry Department, the DoE curriculum officers, Mr Maselwa and Mr Leo Goosen, and the Physics Department. The focus was initially on the FET band (grade 10-12) Physical Sciences teachers, but they have now extended this to include senior phase (grade 7-9) Natural Science teachers.
Furthermore, Ngcoza is involved in engaging learners and teachers in the public understand and communication of science and technology through the Young Ambassadors of Chemistry (YAC), an international initiative, in collaboration with Dr Erica Steenberg from Wits and Dr Lida Schoen from Netherlands. He also runs the Khula Learners Project for the seven Grahamstown East High schools. One of his former Khula Project learner graduate with an MSc in Chemistry from Rhodes University and is now doing a PhD in Chemistry at UCT. This year there are 40 grade 10 and 48 grade 11 learners involved in the Khula Project and Ngcoza is finding ways to collaborate with other initiatives such as Mobile Science Laboratory (MSL), WildREACH and the English Language PGCE students in order to extend the learners inputs beyond Maths, Science and ICT.
Ngcoza's commitment to community engagement has been further evidence during the National Science/Maths Week (1-6 August 2011). He visited rural schools such as Peddie and Kieskammahoek (St Matthews) and Ntsika in Grahamstown together with Mrs Joyce Sewry and her post-graduate students from the Chemistry Department, where the students did the Pollutant's Tale to inspire both learner and science teachers alike. He also co-ordinated a Casio Maths Workshop conducted by a facilitator from Cape Town and in attendance there were 2 teachers, 2 DoE officials and 56 learners from the historically disadvantaged schools.
Ngcoza is a former executive member of the South African Maths Olympiad (SAMO), the Southern African Association for Research in Mathematics, Science and Technology Education (SAARMSTE), and a former chairperson and now a deputy chairperson of the SAARMSTE Eastern Cape Chapter. In addition to his noteworthy service in the sphere of education, he is involved in various community-based organisation such as Hospice (which he chairs), the Mobile Science Laboratory (which he chairs) RUMEP, GADRA the Makana Science Association (MSA) as a Graeme college SGB member, and in Advisory Committee member for the South African Education Outreach Network (SAEON) and WildREACH.
In 2009 Ngcoza was honoured (jointly with Mrs Joyce Sewry) by Rhodes University with the Vice-Chancellor's Distinguished Award for Community Engagement. He was announced as the Grahamstown Citizen of the Year 2010 for his outstanding efforts in promoting Mathematics and Science education and for his involvement in community-based organised organisations. In 2011, he received a prestigious award from the international Golden key Honour Society.
2009
MRS JOYCE SEWRY
Mrs Joyce Sewry established the Khanya Maths and Science Club in 2000, and she still co-ordinates and runs this initiative, with help from the staff and volunteer students of the Chemistry Department at Rhodes. The aim of the Club is to engage a love of Maths and Science amongst its members, club meetings are held every Saturday morning from 09h00 – 11h00 at the Albany Museum, and lessons and workshops are presented by scientists and Chemistry students in an accessible and easy to understand manner. Worth mentioning, is that one of the former Khanya Maths and Science Club members, from a historically disadvantaged Grahamstown school, is currently studying towards a PhD in Financial Statistics at the University of Cape Town.
To address some of the problems teachers encountered with the National Curriculum Statement introduced in 2008. Dr Ken Ngcoza and Mrs Sewry, in collaboration with Mr Maselwa and Mr Goosen of the DoE, initiated a Physical Science Teachers' Programme in June 2008. Grade 10 -12 teachers from various schools in the Grahamstown District began to meet in workshops to develop both their subject content knowledge (SCK) and their pedagogical content (PCK). These workshops have continued and currently a series of 20 further workshops for Grade 10 – 12 educators is being rolled out.
Every day during the recent National Science Week, Joyce Sewry took four postgraduate students to do "A Pollutant's Tale" (a fun and interactive Chemistry show) for grade 10 – 11 learners in school around Peddie, Kieskammahoek, Port ‌Alfred and Cradock , as well as Ntsika (Gtn) and NMMU (Mission campus), reaching about 800 learners and teachers. Sewry has initiated a new service – learning module at the Honours level. In this Module the students do APT and two hands – on experiments with grade 7 learners. In addition, practicals are arranged for grade 11 learners throughout the year.
At the end of August, a representative from Bristol Chemlabs will be spending a week working with the RU Chem Dept, and Sewry and some of her students will accompany him and his colleague to do more work in schools, locally and in Queenstown, as well as workshops with teachers.
The Chemistry Department is very active in Community Engagement, and Joyce Sewry has been a key person in driving this engagement and giving students opportunities to contribute towards improving science education in Grahamstown and in the Eastern Cape.
2008
MRS WENDY WRENCH & PROFESSOR SUNITHA SRINIVAS
In 2008, Wendy Wrench and Sunitha Srinivas were the inaugural winners of the Vice-Chancellor's Distinguished Community Engagement Award for their involvement in a service-learning course in the Faculty of Pharmacy.
In their final year of their pharmacy studies, students have acquired a considerable body of academic knowledge but they may not be sufficiently prepared for the real-world situations in which they will find themselves as practicing pharmacists. The Community Experien‌ogramme (CEP) acts as an invaluable bridge between these two often disparate settings.
The CEP course is based on service-learning principles and forms part of the Pharmacy Practice course for final year students. Students interview patients with chronic conditions (hypertension, diabetes and asthma) in their homes. All patients interviewed are dependent on public sector health care facilities. The course enables students to understand the social context in which pharmacy is practiced in South Africa and the effect of socio-economic factors on the patients' health and their pharmacotherapy. It also gives students the opportunity to see health and illness from the patient's perspective and to identify patient specific pharmacotherapeutic problems. By participating in the programme, students also develop their communication and patient education skills.
The programme was initiated in 1996 by Mrs Sue Burton and Wrench has acted as programme co-ordinator since 2003. This involves inter alia the building and maintaining of relationships with a range of partners, including the local clinics, as well as facilitating a critical review of the programme every year to make necessary adjustments and adaptations. In 2011, some 75 final year Pharmacy students were involved in this service learning programme.
Last Modified: Wed, 10 May 2017 16:22:41 SAST