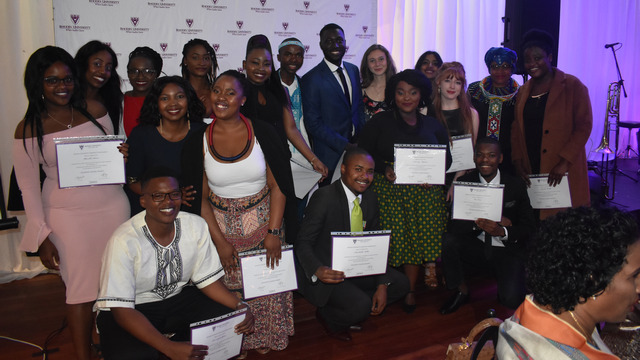 Rhodes University has become a leading engaged university, as was evident with the remarkable individuals and community organisations celebrated on 4 October at the Community Engagement Gala Dinner.
The Gala Dinner recognises and awards all students and partner organisations for their input over the past 12 month period.
Over the last year, 810 well-trained students have volunteered weekly in 76 community partner organisations, which has made a meaningful contribution to the areas of academic support, sports coaching, wellness interventions, food security, IT support and leadership programmes. A further 820 pupils have been involved through disciplines in the various academic departments. "This means that over 20% of our student body are engaged citizens, something we are very proud of," said Di Hornby, Director of Community Engagement at Rhodes University. "We congratulate each of our students for living up to their ideals and through these opportunities, expressing the kind of leadership the world so dearly needs."
"Everyone here is a concerned citizen of this town; this community," said Dr Chrissie Boughey, Deputy Vice Chancellor for Academic and Student Affairs, who delivered the opening address. "Welcome to what I think is one of the most treasurable, happy events of the whole year at Rhodes University. A celebration of a year of achievements of community engagement."
She added, "Community engagement has a very special place at Rhodes University. In recent years, it has become more and more central to the academic project. It has moved in and now truly is at the heart of all we do at the University."
According to Mx Thobani Mesani, Coordinator of the RU Parent Engagement Programme and Social Media Relations at Rhodes University Community Engagement, the division has seen an increase in the number of people who have witnessed the impact of community engagement in the last year. "Thank you to all those who have started to change their mindset about the importance of community engagement," he said.
Upcoming SRC CE Councillor (2019), Mandilakhe Valela, reminded guests about the significance of the day. "We meet just a day after Arts and Culture Minister Mr Nathi Mthethwa officially announced the renaming of Grahamstown to Makhanda. This significant event symbolises the determination of being dedicated to transformation and breaking the bondage of oppression and poverty," he said, before introducing guest speaker Theresa Vivian Moila, Senior Manager of Education for the Transnet Foundation.
The Transnet Foundation's objectives are to deliver sustainable developmental projects through the efficient use of resources. It is a specialist unit charged with administering and executing social investment strategy within the Education, Health, Sports, Arts and Culture, Container Assistance and Grants and Donations sectors.
"One of the motivating factors for me is the belief in human beings. The belief in tapping the potential of fellow South Africans, helping them grow and develop and getting gratification as I witness the change to their lives," she said. "Communities remain a great source of inspiration for the work I do."
She believes we are lucky to be part of the African continent and we have a duty to build South Africa and Africa as a whole. "Each of us has a rich story to tell that forms part of the African narrative. Let's not wait for someone outside of Africa to come and tell our narrative. Let's tell our narrative the way we want it to be told!" she urged guests.
Through its work in community development, said Moila, Rhodes University is creating a narrative that "proves as South Africans and Africans, we can do it for ourselves".
According to Hornby, over the past year, there has been a deeper commitment to common objectives across Makhanda. "We have gone a long way to consider issues of justice, equality and mutual respect, shared responsibility, reciprocal obligation, balance of power and long-term sustainable outcomes," she indicated.
The Rhodes University Community Engagement winners for 2018, are:
Student Volunteer of the Year: Sesonasipho Yedwa
Student Researcher of the Year: Thandiswa Nqowana
Community Partner of the Year: GADRA
Sports Club of the Year: Rhodes University Mountain Club
Hall of the Year: Desmond Tutu Hall and Jan Smuts Hall (joint winner)
For the list of nominees, please see: https://www.ru.ac.za/communityengagement/latestnews/2018ceawardswinnersannounced.html
Source: Communications and Advancement
Please help us to raise funds so that we can give all our students a chance to access online teaching and learning. Covid-19 has disrupted our students' education. Don't let the digital divide put their future at risk. Visit www.ru.ac.za/rucoronavirusgateway to donate