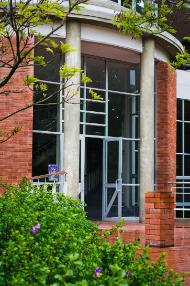 Eden Grove Centre is a modern double storey venue, which is ideally suited for conferences. It houses five modern fully air-conditioned and state-or-the-art lecture theatres. It boasts a delightful open-plan and spacious foyer/concourse area, perfect for conference displays and/or exhibitions, and for hosting special teas, lunches and cocktail parties.
The main lecture theatre, the Red Lecture Theatre,
accommodates up to 350 delegates on fixed tiered seating with long lecture tables. It is equipped with a public address (PA) system, an overhead unit, visual presenter and data projector which projects
onto a 6m x 6m wall screen. The hall has an advanced lighting system and is perfect for video displays and other media.
The Blue Lecture Theatre is a smaller replica of the Red Lecture Theatre situated on the same floor. It is set up in the same layout and accommodates 150 delegates.
Upstairs are three seminar rooms suitable for breakaway rooms, or individually for separate and smaller conferences, seminars or workshops. Seminar rooms 1 and 2 accommodate, in schoolroom layout, up to 70 people each whilst seminar room 3 holds 46 delegates.All three seminar rooms open out into one main venue for a larger event. These smaller rooms comprise loose seating and lecture benches allowing for custom layout,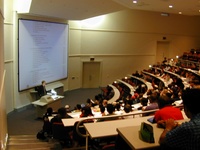 according to the specifications of a particular
conference. These venues are equipped with white boards and overhead facilities. Floor power points allow for data projection where arranged.


Last Modified: Sun, 11 Dec 2011 20:28:35 SAST