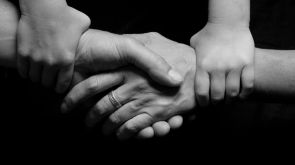 Rhodes > Critical Thought > News Slider Feed 1
Trust Trumps Everything
Date Released:
Wed, 24 October 2018 09:43 +0200
Trust trumps everything, that's what one of my favourite speakers on ethics, Brand Pretorius, said at the Nelson Mandela Bay Leadership Summit, an initiative of the Ukuvula Foundation in June this year.
It got me thinking whether there is a more suitable, alternative term for 'trumps', to explain how trust is everything in business, government, relationships, faiths, transactions and agreements. I came up with 'overarches' but 'trumps' is better. It is even fitting that the linguistic coincidence reminds us of America's main man whose presidency has been one long question of trust.
The reason trust trumps everything is because it is the highest value suit; it plays the decisive role in the success of who we are and whatever we do. Yet it has fallen between the cracks. Why? Because, like the air we breathe, it is omnipresent, vital to our existence but invisible. It is not something we can put on display for the world to admire; yet it is all.
You can position all the other elements on the board of life but if you don't include trust, sooner or later you will be find yourself with an arrogant pigeon strutting across your board, carelessly destroying what you have so carefully constructed and irreversibly fouling the game.
Bell Pottinger did a good deal of strutting through South Africa as if it were some high stakes game. When their strategy was exposed they claimed they were misled but how can we believe them? Our Minister of Communications was a lone voice commending them for the apology. It was predictable from the mouthpiece of a government that has largely forgotten its duty to interrogate motive, implication and impact – all characteristics of trust.
Without trust, whether it is in a president, company, partner or yourself, you cannot successfully operate because all your energy will go into second-guessing and suspicion instead of building relationships based on mutual respect. Parties can even agree to disagree, but ultimately each will know that whatever the outcome, transparency and fairness has prevailed. This is what good faith is all about.
Some would argue trust is idealistic and that you cannot trust anyone. To a certain degree this is true because we all have dubious bits, but to a larger degree we need to know that the people we deal with are generally trustworthy, and we do need others to feel we are too.
Last month in my column I briefly spoke about the Edelman Trust Barometer – an annual global survey that measures public trust – also raised by Pretorius at the summit. Edelman spells out to business the top five actions that most damage trust, and they bear repeating:
Pay bribes to government officials to win contracts;
Pay executives hundreds of times more than workers;
Move profits to other countries to avoid taxes;
Overcharge for products that people need to live; and
Reduce costs by lowering product quality.
Our business sector needs to pay close attention to these issues, as boards are increasingly required to be far more accountable for the decisions they make: from remuneration to the strategy of the company to the risks they deal all underpinned by requirements for ethical and effective leadership as articulated in the King IV Code of Governance. All these issues are about trust and all these issues keep raising their heads in different ways – from the MTN Nigerian fine issue, to the KPMG Gupta wedding issue to the construction companies' tender collusion issue.
Next is the executive pay issue, which is further contributing to the trust deficit in South Africa and globally, and it is not going to disappear. Society questions the basis on which executive salaries are worked out and how they can exceed the inflation rate by such considerable margins.
On to the practice of moving profits to other countries to avoid taxes, one argument is that paying the least amount to tax within the law is good governance but in the latest Apple, Starbucks, Amazon tax twist, what the European Union has done is to make companies think twice before using its member countries as a tax sieve. This doesn't stop other countries, including the UK, from countering this with aggressive tax benefits, but any arrangements that help multi-billion dollar companies to pay minimal tax is questionable, and contributes to trust deficit.
As for overcharging, well our Competition Commission is investigating Aspen, Roche, Pfizer and Corobrik, all of whom deny any wrongdoings. These are companies producing cancer drugs and bricks, which are all about health and shelter, so let's hope they're being trustworthy and not just funding lawyers to get them off the hook.
Then there are companies who reduce costs by lowering product quality, which can tragically backfire as is being investigated following the Grenfell Tower tragedy.
So, in synopsis, what do we do about this? First and foremost is to aim to do no harm, immediately stop any of the five listed practices if we are guilty of them in any way, and make trustworthiness our most valued credential. Like fresh air, it can never be taken for granted because once it is gone, it is gone; ask Bell Pottinger.
For more information:
http://www.edelman.com/global-results/
This article appeared in Leadership, Edition 384, August 2017. It is reproduced with their permission.
Source:Critical Thought