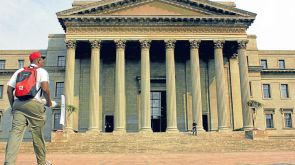 Rhodes > Critical Thought > News Slider Feed 2
Why academia is a good career
Date Released:
Wed, 24 October 2018 09:43 +0200
There are compelling reasons to become a business school academic. Unfortunately, no-one is making the case
The sustainability of academic institutions in SA, including business schools, is under threat because too few young people consider an academic career. The reasons for this are complex, often driven by perceptions and stereotypical thinking that the higher-education sector has not worked hard enough to debunk.
However, we cannot ignore the reasons commonly put forward: that you need a PhD if you hope to be a senior academic; low pay; inadequate resources; or that your job might be redundant (especially in the humanities — which I don't believe for a moment).
So what is the case for a career as a business school academic? SA schools are at an exciting stage in their development. The country is fortunate to have many schools that are internationally acknowledged as leaders in management education. But we need dedicated academics committed to solving the vexing questions about the management skills required in SA, Africa and the world.
Another idea that comes to mind is the opportunity to be a "pracademic" (a teacher who brings real-world experiences into the classroom) or an "acaditioner" (an academic who is able to show how theories apply in the real world).
Then there is the opportunity to earn extra income by formulating new training and skills courses, which organisations confirm transform the way things are done.
To help my cause, I asked Google: "What do people want from their careers?" Not unexpectedly, the solution came from a Harvard Business Review article titled "The Three Things Employees Really Want: Career, Community, Cause". The authors are Lori Goler, Janelle Gale, Brynn Harrington and Adam Grant. The first three are executives at Facebook, which is the source of the data, gathered through workplace surveys conducted there.
It was analysed according to age, location and function, and the research confirmed that all three Cs (career, community and cause) are highly prized.
The article explains: "Career is about work: having a job that provides autonomy, allows you to use your strengths and promotes your learning and development. It's at the heart of intrinsic motivation. Community is about people: feeling respected, cared about and recognised by others. It drives our sense of connection and belongingness. Cause is about purpose: feeling that you make a meaningful impact, identifying with the organisation's mission, and believing that it does some good in the world. It's a source of pride".
Generally the order of importance is: career, community, cause. Among older people, cause trumps career, but younger people are clearly focused on career.
Meeting the 'three Cs'
Business schools offer the potential for all three Cs to be achieved. That does not mean the induction process will be easy — there is no substitute for experience. But the likelihood that you will achieve autonomy if you become an expert in your field is as feasible as ever.
SA business schools' community focus is unprecedented in their history, and our stakeholders are often surprised to discover its extent. Frankly, we haven't done a good enough job to communicate the good work, but this is changing.
The idea of cause is real and the opportunity to repurpose ourselves is there for young, enterprising academics. As we all struggle to solve the most pressing problems of our time, fresh eyes and ideas are needed more than ever.
The reality, however, is that knowledge is still dominated by thinking and research emanating from North America and Europe. Hence my need for a Harvard article to help make my case.
The article makes no reference to Africa in its data. That needs to change. What an exciting opportunity for young academics to achieve their own three Cs by developing that new knowledge.
First published in Financial Mail on Thursday, 26 July 2018.
Source:Critical Thought