Dr. Lausanne Olvitt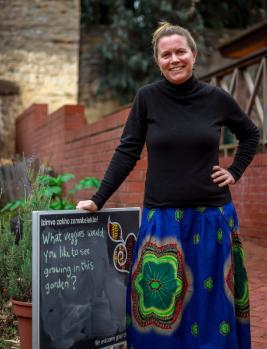 Contact details
Phone: +27(46) 603 8389/90
Email: l.olvitt@ru.ac.za
Qualifications: BA (Univ. of Natal, Pmb); HDE (Univ. of Natal, Pmb); MEd (Environmental Education) (Rhodes); PhD (Rhodes)
Short Biography
During a seven-year teaching career in KwaZulu-Natal as a high school English teacher, Lausanne Olvitt developed an interest in Environmental Education and was actively involved in the school's environmental club. In 2001 she registered for the Gold Fields Certificate Course in Environmental Education offered through Rhodes University. This short course broadened her thinking about the scope, purpose and methodologies of environmental education to the extent that, the following year, she left the formal schooling sector to join the Wildlife and Environment Society of South Africa (WESSA), coordinating Share-Net – a project that developed low-cost, environmental education resources.
In 2004, Lausanne graduated from Rhodes University with a Masters Degree in Environmental Education and, in that same year, was appointed on contract by Rhodes as an Environmental Education Short Course Co-ordinator. This post gave Lausanne valuable experience in short course curriculum development and, importantly, stimulated her intersecting interests in adult learning and the nature and role of values and ethics in environmental learning processes.
For five years she developed and tutored on professional development courses for environmental educators, in particular the Gold Fields Certificate Course, the Rhodes/ SADC Certificate Course in Environmental Education and the Advanced Certificate in Environmental Education. Lausanne's PhD (2012) was a case study that investigated the ethics-oriented reflexive deliberations of novice environmental educators. In 2009, Lausanne became a tenured staff member in the Education Department at Rhodes University and she currently teaches Environmental Education at Honours, Masters and Doctoral levels. Lausanne has also been an active member and former council member of the Environmental Education Association of Southern Africa (EEASA) and is currently the co-editor of its journal, the Southern African Journal of Environmental Education.
Research
Environmental values, ethics and their influence in reflexive learning is a strand running through much of my teaching and research. If awareness alone doesn't make us change the way we do things, what does? What is the relationship between the things we care about, the things we know about, and the way we treat people and planet? What kinds of learning processes might strengthen this relationship? These are the kinds of questions that stimulated my PhD research entitled: Deciding and Doing What's Right for People and Planet: An investigation of the ethics-oriented learning of novice environmental educators.
My post-doctoral research interests include the way environmental values and ethical positions are advanced (or restrained) by discourses; and the socio-material dimensions of ethical deliberation. In the latter interest, I am proposing that people's moral engagement with the natural world is not just ideational or emotional, but also influenced by tangible, embodied encounters with the physical world. This can range, for example, from transformative experiences of handling and nursing an injured wild animal, to more constraining experiences such as living without access to clean water, or attending school or college in a neglected, vandalised or polluted environment. The educational focus within this broad sociological interest is on how people's ethics-oriented reflexive deliberations (which I conceptualise as learning processes) are shaped by socio-materiality. Theoretically, my research is positioned in the socio-cultural tradition of human learning and development, and is philosophically under-laboured by critical realism. I currently hold a small NRF-Thuthuka research grant (2016 – 2018) which provides for 3 postgraduate researchers to investigate the sociomateriality of ethics-oriented learning in the Anthropocene.
A further research interest is in adult education and training, in particular workplace learning and professional development. Through the ELRC, I have been associated with the CATTHSETA-funded research programme into Human Capital Development for the Biodiversity Sector, and currently the multi-partnered Green Skills Research Programme that aims to build system capacity for Green Skills in South Africa (2015 – 2017).
Teaching and learning
My understandings of teaching and learning have developed through my experiences of school teaching, workshop and tutorial-based professional development courses, lecturing BEd Honours and Masters students, including supervision. Presently, my teaching projects include:
BEd Honours

: I coordinate the BEd Honours programme in the Faculty of Education, a role which includes oversight of curriculum development, evaluation, as well as co-ordination functions. At this level, I also teach (in alternate years) two elective modules (25 credits): (i) Education, Training and Development Practices (ETDP) and (ii) Environment & Sustainability Education.

MEd (Environmental Education)

: With colleagues in the Environmental Learning Research Centre, I co-teach on the coursework component of the MEd (EE) programme, and supervise or co-supervise numerous environmental education research projects.

Research Design Course

: I regularly teach on the Faculty of Education's week-long course on qualitative research design which is offered twice annually.
Students
I am currently supervising MEd (EE) 9 students.
I am also advising two pre-doctoral students (Martha Shongwe and Miila Kaupinnen), and co-supervising three PhD candidates: Michelle Heistermann, Sheraine van Wyk, and Nanamhla Gwedla (Dept. of Environmental Science)
Publications
Some of my recent publications are available at:
www.rhodes-za.academia.edu/LausanneOlvitt
Krasny, M.E., Mukute, M., Aguilar, O., Masilela, M.P., and Olvitt, L. (2017, in press). Community environmental education. In: Russ, A., and Krasny, M. (Eds.), Urban environmental education review. Ithaca, New York: Cornell University Press. pp. XX
Olvitt, L. (2016). The Emergence of Environmental Ethics Discourses in Laminated, Open Systems: Some educational considerations In: L. Price & H. Lotz-Sisitka (Eds.). Critical Realism, Environmental Learning and Social-ecological Change. London: Routledge. Pp. 137 – 158
Olvitt, L. (2013). If they care so much, why don't they do something? Some thoughts on the links between values and actions. Environment, July 2013.
Olvitt, L. (2013b).Environmental Ethics as Processes of Open-Ended, Pluralistic, Deliberative Enquiry. In: R. Stevenson; M. Brody, J. Dillon & A. Wals (eds). International Handbook of Research on Environmental Education. American Education Research Association (AERA) & Routledge. Pp. 115 – 121.
Olvitt, L. (2013a). The Invisible Mediator: a case study of environmental values and ethical deliberations in workplace and course-based learning processes. Proceedings of the 8th International Conference: Researching Work and Learning.
Olvitt, L. (2012b). Ethical Deliberations in Environmental Education Workplaces: A case story of contextualised and personalised reflexivity. In A. Wals & P. Corcoran (Eds.). Learning for Sustainability in Times of Accelerating Change. Wageningen: Wageningen Academic Publishers. Pp.105 – 120.
Olvitt, L. (2012a). Deciding and Doing What's Right for People and Planet: An investigation of the ethics-oriented learning of novice environmental educators. Unpublished PhD dissertation. Grahamstown: Rhodes University.
Olvitt, L. (2010). Ethics-oriented Learning in Environmental Education Workplaces: An activity theory approach.Southern African Journal of Environmental Education,27, pp. 71-90.
Rosenberg, E., O'Donogue, R. & Olvitt, L. (2010). Methods and Processes to support Change-oriented Learning. Grahamstown: C.A.P.E CEP (Rhodes University).
Sisitka, H., Ellery, K., Olvitt, L., Schudel, I. & O'Donoghue, R. (2010). Cultivating a Scholarly Community of Practice: Towards intellectual community. Acta Academica Supplementum, 2010 (1), 130 – 150.
Sisitka, H. & Olvitt, L. (2008). South Africa: Strengthening Responses to Sustainable Development Policy and Legislation. In J. Fien., R. Maclean & M. Park. (Eds.). Work, Learning and Sustainable Development: Opportunities and Challenges. Heidelburg: Springer.
Olvitt, L; Lotz-Sisitka, H; & Schudel, I. (2007). Using the Earth Charter as a thinking tool and talking point: Reflections on environmental education courses. In M. Vilela & K. Corrigan (Eds). Good Practices using the Earth Charter. UNESCO/Earth Charter International, Paris. Pp. 137 – 141.
Olvitt, L and Hamaamba, H. (2006). Identifying needs and opportunities for local government environmental education and training in South Africa. Southern African Journal of Environmental Education, 23, 121 - 136.
Olvitt, L.; Murray, S.; Robertson, S. and Smuts, D. (2007). Keys to English: Learners' Book Grade 9. Sandton: Heinemann.
Russo, V. & Olvitt, L. (2006). Course Materials Development for Adult Learning: A source book for environmental and sustainability education. Howick: SADC REEP / Share-Net.
Lotz-Sisitka, H.; Olvitt, L.; Gumede, M. and Pesanayi, T. (2006). History and Context of ESD in Southern Africa: Supporting participation in the UN Decade of Education for Sustainable Development. Howick: SADC REEP.
Burkett, B.; Olvitt, L.; Robertson, S. and Smuts, D. (2006). Keys to English: Learners' Book Grade 8. Sandton: Heinemann.
Olvitt, L., Malema, V. and Lotz-Sisitka, H. (2004). Analysis Of The Education & Training Needs Implied in Selected Key South African Environmental Legislation. Unpublished report for the Department of Environmental Affairs & Tourism.
Olvitt, L. (2004). The Adaptive Development and Use of Learning Support Materials in Response to the 1stPrinciple of the Revised National Curriculum Statement: The Case of Hadeda Island. Unpublished Masters half-thesis. Grahamstown: Rhodes University.
‌
Last Modified: Tue, 30 Jun 2020 11:58:28 SAST