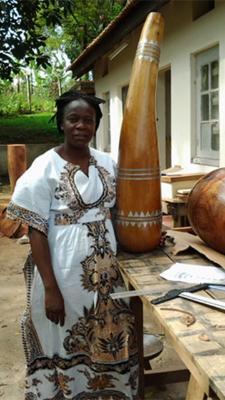 Presentation: "Reconfiguring the OMWESO Board Game: Performing Narratives of Buganda Material Culture"
The Arts of Africa and Global Souths research group in the Fine Art Department, warmly invites you to a seminar presentation by Dr Rose Namubiru Kirumira (Senior Lecturer, Makerere University, Uganda) who is currently a Mellon Writer in Residence in the Fine Art Department.
Thursday the 19th of October at 1:00 pm
Seminar Room, Fine Art
Presentation: "Reconfiguring the OMWESO Board Game: Performing Narratives of Buganda Material Culture"
Dr. Rose Namubiru Kirumira is a Senior Lecturer at the School of Industrial and Fine Arts at Makerere University in Uganda where she also obtained her PhD in art education. Her dissertation, "The Formation of Contemporary Visual Artists in Africa: Revisiting Residency Programmes", investigated the value of informal learning spaces in the formation of African visual artists. She also has experience in coordinating artists' activities in Uganda and has attended several artists' workshops and residencies in Zambia, Kenya, Botswana and South Africa.
As a Writer in Residence in the Fine Art Department at Rhodes, she is pursuing research on the omweso board game, which she has reinterpreted in her own sculptural work in recent years. As a sculptor, Dr. Kirumira has produced exhibitions such as "Faces" (1996) and "Personalities" (2010) at Tulifanya Art Gallery in Kampala. Her strength is creating monumental sculptures, and she has produced a number of public monuments and projects such as the sculptures for the Don Bosco Vocational School Chapel, Kamuli, 1997. Working under the renowned Prof. Francis Naggenda, she made the statue of "King Ronald Mutebi" at the Buganda Parliament and the work "Family" at Mulago Hospital Kampala. She also made the two famous sculptures "Mother Uganda" and "UNDP" at the former UNDP Headquarters, and has produced monumental sculptures in Canada, Denmark and China.
Abstract:
This presentation posits a reconfiguration of the OMWESO board game as a [re]source in the visualisation of narrative representations. Personal encounters with Buganda's material culture through three discourses, namely the Nakulabye (Omweso Club), Nakayima (the deity) and Mukondo (a concubine) are significant in providing context to the process of unpacking subtle nuances as performances in the narratives. I present several sculptural works that conceptualized and showcased different aspects of 'omweso' [object, function, norms, meaning] and related conversations specifically within historical, socio-cultural memories and contemporary perceptions of the Baganda. In particular, Omweso is used as a conduit through which I position myself as a contemporary female visual artist encountering restrictive spaces of material culture.
Source: SARChI Chair in Geopolitics and the Arts of Africa (NRF and DST)
Please help us to raise funds so that we can give all our students a chance to access online teaching and learning. Covid-19 has disrupted our students' education. Don't let the digital divide put their future at risk. Visit www.ru.ac.za/rucoronavirusgateway to donate