General Funds
Rhodes University is a multi-faceted institution with many areas of need and your support need not be restricted to the areas outlined on this website.
If there is a particular area of the University that you would like to support, please let us know. You are welcome to choose how you would like your contribution to be used; all general donations are used in strict accordance with the donor's wishes.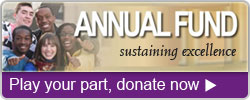 For more information on General Funds, please contact Annie Pienaar on +27 (0) 46 603 7024 or email: annualfund@ru.ac.za.
Last Modified: Mon, 21 May 2018 10:22:47 SAST