Maintaining a healthy balance
Academic excellence is not the only goal of university life at Rhodes. We recognise and promote the importance of healthy activity by offering opportunities to participate in more than 30 different sporting disciplines – from rowing and archery to tennis, athletics, soccer, rugby, cricket and swimming.
The Rhodes Sports Foundation – made possible by a generous donation from an Old Rhodian, Donovan Neale-May, and the Old Rhodian Golf Club – assists with the upkeep of facilities and the provision of new equipment. The Fund also financially assists talented sportsmen and women representing the university at events in the Eastern Cape and throughout South Africa.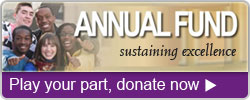 Contributing to The Rhodes Sports Fund is an attractive opportunity for alumni who have a special interest in or affinity for sports.
For more information regarding Rhodes Sports Foundation, please contact Annelise Pienaar on +27 (0) 46 603 7024 or email: annualfund@ru.ac.za.
Last Modified: Mon, 21 May 2018 10:23:03 SAST