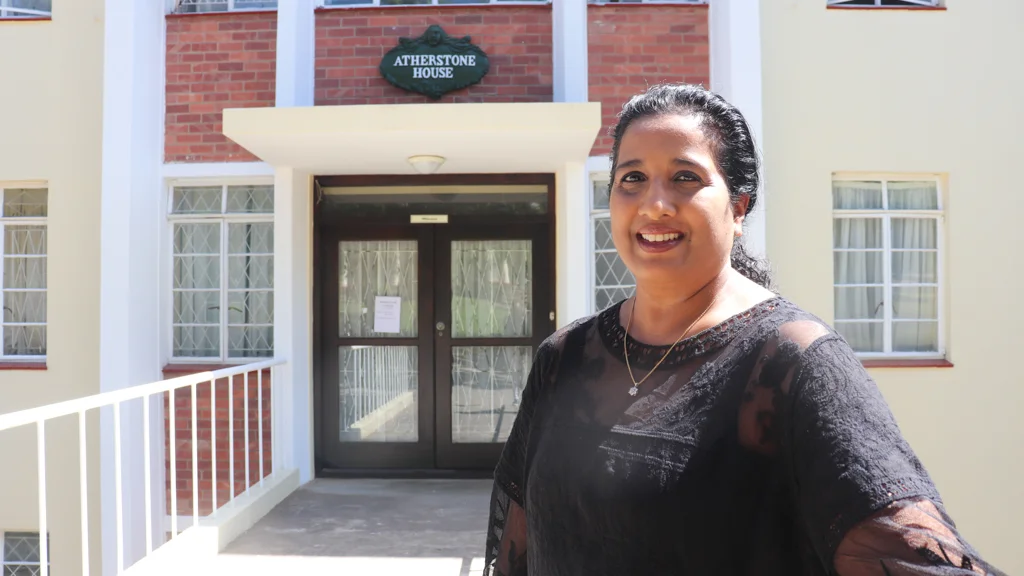 Twenty-four years of uninterrupted service, dedication, and love for her job have earned Jayalakshmi Pillay a promotion to the Director of Residential Operations. 'Jay', as she is better known, arrived at the Institution in 1999 as the Food Services Manager. She was appointed as the Deputy Director of Residential Operations in 2013.
The Food Technology Specialist has extensive experience in the food science and hospitality industry. Before joining Rhodes University, she worked for Fedics Food Services as a Food Service Manager, where she won the Chef of the Year Award. The award allowed her to travel with the South African Chefs Team to attend the World Culinary Olympics in Frankfurt, Germany, in 1992.
Born and bred in Durban, Pillay holds a National Diploma in Food Technology from ML Sultan Technikon (now Durban University of Technology), a Diploma in Marketing Management, a Diploma in Industrial Relations from Damelin, a Master's in Business Administration from Rhodes University and a Postgraduate Certificate in Business Administration from University of Bath, United Kingdom.
Following a family tragedy, Pillay and her family considered moving to Australia until a colleague told her about the post available at Rhodes University. She applied, was successful, and has never looked back. "The culture at the time was not welcoming, which makes me appreciate the current transformation even more," said Pillay.
Pillay said it was not easy when she joined the University because she was tasked with re-evaluating food standards, hygiene factors, and controlling costs. "I was mandated to tighten the budget, so I was challenged from different areas when critical changes had to be made. I had to be focused because I knew that the food standards and costs could either make or break the budget and food services," she added.
The newly-appointed Director said that during her 24 years of employment at Rhodes University, she developed strong leadership skills and sound managerial attributes and has seen the value and synergies of working with Student Affairs, Residence, and Oppidan students, the Student Representative Council, Hall Wardens, concerned parents, managers and staff from different backgrounds, knowledge, and experience levels. She said this had been an exciting part of her job and knows she will continue contributing to the strategic and operational areas at Rhodes University.
In an effort to keep abreast with industry standards, Pillay said Residential Operations has recently joined the South African Chefs Association as a corporate member. "I intend to bring South African Chefs to Rhodes University to elevate our food standards and to ensure that our Food Service Staff are adequately equipped. It is good to change menus, but we need to ensure that our staff members are upskilled with the sectorial industry standards," said Pillay.
She currently holds the portfolio of the Research and Development Office at ACUHO-I-SAC (The Association of College and University Housing Officers – International – South Africa Chapter). This association empowers campus housing and residence life professionals. She was instrumental in creating strategic partnerships with Higher Health and ACUHO-I-SAC. Through this partnership, she firmly believes that this will ensure a compliant and safe Higher Education landscape with programmes that will improve health and well-being on our campuses nationally.
She said she felt honoured and rewarded by the University for her loyalty and hard work. "I am looking forward to working at a strategic level and turning our campus into a more vibrant and environmentally-friendly campus. I am looking at sustainability projects that will take us from good to great. Our students are more environmentally-conscious, and I will endeavour to ensure that we have green social outdoor spaces and introduce smart learning spaces that will support living and learning initiatives on our beautiful campus," she said.
Pillay said the regular load shedding and intermittent water supply negatively affect residences and food service delivery. However, she said, plans are underway for generators and water filtration systems for the residences and kitchens.
Chief Financial Officer, Kamlesh Riga congratulated Pillay and said: "It is always a pleasure working with Jay, and I would like to congratulate her on this well-deserved promotion. She is a solutions-focused and dedicated individual who consistently goes above and beyond the call of duty to ensure that Rhodes University has the best residence system with student-centricity at the core. Jay has an exceptional work ethic and has instilled a culture of inclusivity and teamwork that continually strives to improve Residence Operations and its impact at Rhodes University," concluded Riga.
Source: Division of Communication and Advancement