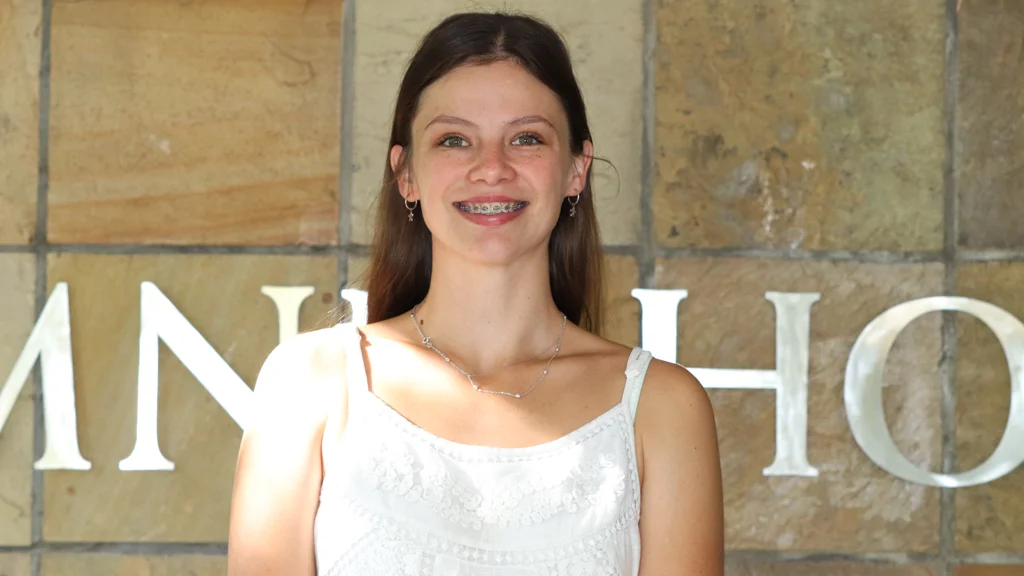 Rhodes University Chemistry PhD candidate, Kristen Burgess, has been selected for the illustrious Gates Cambridge scholarship. Burgess is part of the Gates Cambridge Class of 2023, comprised of 77 outstanding new scholars from around the world.
The Gates Cambridge scholarship programme is the University of Cambridge's flagship international postgraduate scholarship programme. It was established through a US$210 million donation to the University of Cambridge from the Bill and Melinda Gates Foundation in 2000. This remains the largest single donation to a UK university. Since the first class in 2001, Gates Cambridge has awarded 2,100 scholarships to scholars from 112 countries who represent more than 700 universities globally, and more than 80 academic departments, and all 31 Colleges at Cambridge.
The 23-year-old Johannesburg-born Burgess will be part of 77 Gates Cambridge Scholars worldwide who will join the Cambridge community when they start their studies in the autumn. In addition to generous funding to do their research, with no age limit on candidates, they will benefit from the strong sense of community and identity forged by their predecessors and their commitment to improving the lives of others.
"I am just delighted about what this opportunity has to offer me in my quest for knowledge, filling the research gap, sharing my love for science, and combatting cancer," said Burgess.
Burgess said she has always been interested in the underlying mechanisms of disease, particularly cancer. "After my undergraduate degree at Rhodes University, I needed to decide between chemistry and biochemistry for my postgraduate endeavours; even though I love biochemistry, I opted for chemistry, as it allowed me to explore diseases (and other topics) with a molecular approach and left a few more doors open," she said.
She said that over the course of her undergraduate degree and postgraduate research, this interest had been ignited and has ultimately developed into an insatiable hunger to understand more. "I will now be doing my PhD with a broader focus encompassing both chemistry and biochemistry. This project will investigate the effect that Glioblastoma Multiforme (malignant brain tumours) has on the surrounding extracellular matrix within brain tissue, in order to enhance its progression and invasion. Once the mechanism of the disease has been mapped out, an intelligent molecular intervention can be designed," she added.
Commenting about the class of 2023, Professor Eilís Ferran of the Gates Cambridge Trust, said: "These scholars, who have been selected by our expert Selection Panels, reflect the mission of the Gates Cambridge Trust established through the Bill and Melinda Gates Foundation's generous and historic gift to the University of Cambridge. Like their predecessors, they are both intellectually outstanding and demonstrate the kind of leadership qualities needed to tackle the complex global challenges we face today. We know that these scholars will flourish in the rich, international community at Cambridge and will go on to make a significant impact in their fields and to the wider global community."
Burgess' co-supervisor, Associate Professor of Rhodes University, John Mack, said: "I heartily congratulate Kristen Burgess on the award of a Gates Cambridge Scholarship to fund her PhD studies at Cambridge University. Her research as an Honours and MSc student under my supervision and the co-supervision of Distinguished Professor Tebello Nyokong has been exceptional. I am sure she will go on to have an outstanding career in scientific research."
Rhodes University Vice-Chancellor, Professor Sizwe Mabizela, congratulated Burgess and wished her well. "We are immensely proud of Kristen. She is part of the extraordinary scholars produced by this fine institution. Our students and alumni are making remarkable contributions and leading change in many and diverse fields of human endeavour. We expect no less from Kristen. She should continue flying the Rhodes University flag higher," said Professor Mabizela.
Source: Division of Communication and Advancement and Gates Cambridge