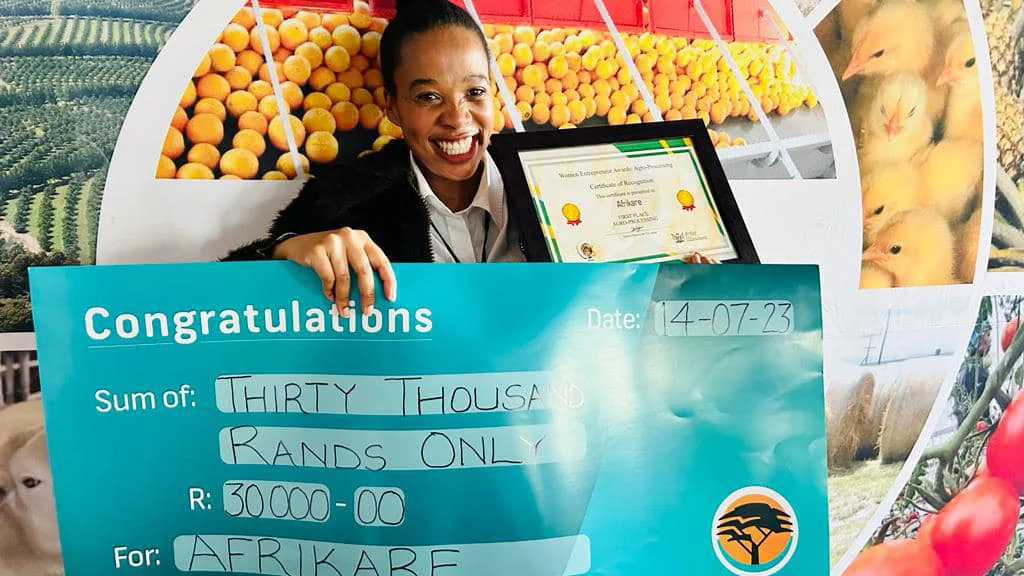 Rhodes University alumna and former Student Recruitment Officer, Tulisa Mondliwa, has received government recognition and a boost for her Afrikare beauty product business. The Department of Rural Development and Agrarian Reform (DRDAR) recently held awards for top-performing women farmers in the Sarah Baartman district.
According to DRDAR Chief Director of Communications, Mvusiwekhaya Sicwetsha, the awards formed part of the national annual Women Entrepreneur Awards (WEA). "The Eastern Cape Department of Rural Development and Agrarian Reform is awarding top-performing women contributing to economic development and job creation through the agricultural sector. The awards aim to empower women in the agriculture and agro-processing sectors by recognising their contributions. The awards are an instrument through which the contribution of women in the fight against poverty, hunger and joblessness is recognised," said Sicwetsha.
Mondliwa has a BSc in Geography and Chemistry and a Post Graduate Diploma in Enterprise Development from Rhodes University. She worked as the Student Recruitment Officer from September 2017 till May 2022. She was the overall winner in the WEA and the Agro-Processing category, and she walked away with R60 000 in prize money. "I feel great. I feel this is the breakthrough I have been waiting for in terms of putting my brand out there, especially in the Eastern Cape. This recognition will give a lot of growth and exposure for my brand," said Mondliwa.
The Afrikare founder said she could not have ventured into business if she did not acquire Rhodes University qualifications. She said having a chemistry degree helped her understand which ingredients were clean and which are not clean in the beautify space. "The reason I started my brand is that the term "natural" in most beauty products is used as a gimmick, but when you look closely, there is a little bit of shea butter. Having a chemistry degree helped me differentiate between green and brown ingredients and the effect the brown ingredient has in the long line. As part of geography, we did environmental management, which taught us how to take care of the environment in our daily activities," added Mondliwa.
Mondliwa said the Rhodes Business School taught her operations management, sustainability, and awareness of climate change. She said all these came in handy when she opened her Afrikare business.
She produces shampoos, hair and body butter, hair and body oils, beard oil and butter, candles, lemon serum and scalp rubs. She said her business seeks to fulfil the needs of those who are environmentally conscious.
The district winners will compete with other women from the rest of the province in an event that will be held in Qumbu, and the provincial winners will compete for top honors at national level. A date will be released soon.